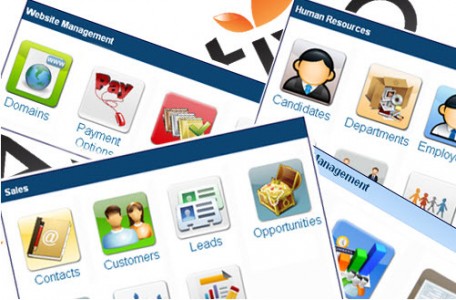 Whether you are a freelance virtual assistant, web designer or a software developer here are a few questions that you need to answer for the smooth functioning of your day to day activities. Do you want to work from home or rent a space? How many clients are you willing to service? How many hours are you planning to work? How many hours are you willing to assign for each work?  Are you planning to employ anyone to keep track of your invoices and finance?  How do you plan to manage multiple projects at a given time? Are you working as a team (in-house or remote) or is it a one man show?
Free Document Sharing made easy through Apptivo.
Once you have decided to become a successful freelancer, there are certain tools that are really useful and necessary to make your work simpler and uncomplicated. Here I have listed a few web applications that I as a freelancer use.
Project/Task Management
Since I work for a couple of clients, there was a time when I could not keep track of the status of my work. That is when one of my close friends introduced me to an organizer tool on the Internet. Though initially, I had a few teething problems, now I can actually handle my tasks more efficiently. Apptivo's Free Web based Project Management App is one of the tools that helped me organize my work efficiently. The task management tools will help you to collaborate, communicate, share files, make milestones, create to-do lists.
Calendars and Schedulers
I suggest that all freelancers use an online calendar to keep track of their client meetings, and to-do-lists. You cannot keep everything in your head. You can write down the to-do-lists manually in your diary. However, if you are always on the move then it is wise to use an online calendar or scheduler. There are many SaaS providers who provide calendars for free. I use Google Calendar to schedule my work. It's a scheduler which tells you about your priorities. Finally, your success depends on how you wisely you manage your time.
Invoicing and Keeping Tabs on Time
It is not just about organizing your work and completing it on schedule. You also need to get paid. If you are billing your clients on hourly basis you need to keep track of your time. I use Apptivo's Free Web Based Timesheets App. Time tracking software helps me to keep track of the hours spent on my client's project, so I can generate an accurate bill. I also use Apptivo's Free web Based Invoices App to send professional looking invoices to my clients. Invoices apps on the cloud make bookkeeping, accounting simple and easy for the budding freelancers.
Storage of Data
Instead of storing all your clients' files along with yours on the hard drive, you can subscribe to online data storage. There are many cloud providers who allow online data storage at a minimal cost.  However, you need to check out is their security and privacy measures. iDocuments is what I use. You can use Flickr and YouTube to store videos.
Other Website Tools
Networking on professional and social media is the trend these days. I have a profile in Linkedin to make contacts and also find job opportunities. Here you can participate in discussion groups and forums to broaden your networks.  Another way to market about your business skills or your organization is through blogging. WordPress is the one I use to showcase my skills. The other websites are hubpages, Tumblr and many more where you can blog.
Internet Phone
Last but not the least it is good to have a Skype Id. You can make calls from PC to PC without making spending a dime. You can also make calls to landlines and mobiles by paying a minimal yearly amount. Remember, you can also make overseas calls from Skype.
What I have mentioned here are some of the basic tools that a novice freelancer has to put in place for smooth functioning. You can add more web apps as per your work requirement. Remember that web apps on cloud are known as on-demand applications.
Related posts: