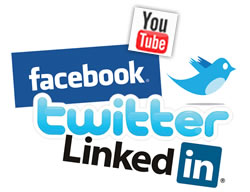 These days, you don't see ford.com listed at the end of a Ford TV commercial during the Super Bowl prime spot; instead, you see facebook.com/ford and twitter.com/ford.
We are in the era of social media in which businesses are driving traffic to their social media sites vs. their official websites. Businesses invest major marketing dollars in social media to grow "likes" and "following" – a superficial way of showing their "popularity" by social media definition. What most of the businesses do not realize is that they can do more with these fans and followers by effectively transforming them to their own "brand promoters" to help spread the word about products and services among social network connections.
As a small business owner, you may ask, "how can I do that with a limited budget"?
In this day age, everyone is part of a social network, and this is very good news for small businesses. Social media enables people to engage and share content while being part of the same shared space, and this presents a wealth of opportunities for you to get leads and garner sales. Social media essentially creates a "place" to see and be seen. The big question is, with the billions of conversations and downright mindless chatter that's going on in these networks, how do you get your customers to share your products and services with their friends?
You can implement a reward system in your business:  By giving perks or incentives to your customers for sharing your products and services with their social connections via social media sites. You're simultaneously rewarding yourself in the process. In the same way that you would swipe your extra miles credit card more often than the card that offers no rewards, customers that feel happy and rewarded have greater chances of providing repeat business. Giving perks to consumers is one way of telling them to choose YOUR business or website above the competition. Moreover, customers who frequently gain incentives are also more likely to spread the word to their network.
Manage an unlimited number of contacts for FREE using Apptivo's Customers App
There are several ways that you can reward your customers. Before jumping into a reward system though, it's best to do your research first, and evaluate each solution to determine which best fits your business. One of the ways to encourage users to sit up and look at your brand is by conducting a social media contest. If executed successfully, running a contest through social networks can get individuals to notice not just your Facebook page, but your website, and your products as well.
Social media contests usually involve entrants liking your Facebook page or tweeting about your brand to get a chance to win a prize. The most ideal way to do this is to keep it simple. The more hoops that users have to jump through to win a prize, the less likely they'll join your contest. (Unless you're giving away something REALLY great or expensive.)
It's best to set a "no-brainer barrier to entry" that makes it as easy as possible for people to enter. One way of doing this is by allowing individuals to like your Facebook page or tweet about your promotion straight from your website. As we previously mentioned, you don't want to complicate things by making users open new browser windows or visiting other pages, and you certainly don't want them to leave your site. We suggest placing a social widget on your contest page that allows users to easily submit entries. No more posting or tweeting about it separately, they can do it all from you site.
Online Offers and Discounts
Over the years, offers and special sales for loyal customers have worked for offline retailers, and the great news is, this reward tactic can also do wonders for E-Commerce websites.
If you have an email list, try offering exclusive deals to your subscribers. This will not only encourage loyalty from your current customers, but it's also a great way to entice new people to sign up to your mailing list.
Another great way to spread the word about your brand is by giving discounts to users who share your site and products with their friends. You can even allow it to go viral by offering incentives to customers for each of their friends that makes a purchase.
Francesca is a social media-savvy in-house blogger for incentiBox.com. As a freelance writer, she has also written for The Examiner LA, advertising agencies, and real estate companies. For further inquiries, please contact support@incentibox.com
Related posts: