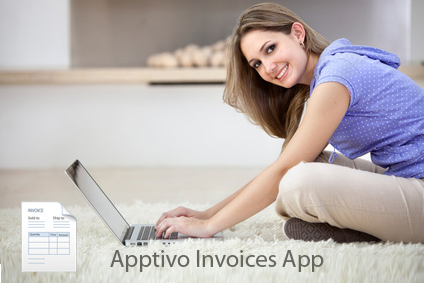 It is a fact that being a freelancer designer will allow you to choose with whom you want to work, the tools you want to work with and the hours you want to work. On the face the life of a freelance designer may seem to be enjoyable but there are many responsibilities that come with being a freelance designer. One such responsibility is billing and invoicing the concerned client. If you are using traditional paper invoices or sending invoices on MS Word or MS Excel, it is high time you switch over to online invoicing. There are several benefits while using online invoicing.
There are many free online invoicing apps such Apptivo Invoices App, which you can use to keep track of your time and bill your client. Whether you are a freelance web designer, brochure designer or a fashion designer there are certain things that you need to keep in mind as a freelance designer. And one of them is using online invoicing.  Here are a few reasons why a freelance designer should consider using a good and flexible online invoicing.
Professional Looking Invoices
Do you know that sending a professional invoice speaks volume about you as a professional freelance designer? The client will notice your professional like approach when you send him/her a well-designed and detailed commercial invoice. Some of the fields a professional invoice should include are
Accepted Methods of Payment
Standardize your Invoice
Many invoicing Apps provide purchase invoice templates. A freelance designer can use one of the templates as a standard template for his/her invoice. When you send a standardized template the client will instantly recognize you.
Customize your Client Communication
As a freelance designer you would be servicing multiple clients. There would be some regular clients of yours with whom you would share a very close and friendly relationship. For them, if you want you can relax your payment norms and other terms and conditions while for the others you can stick to your terms and conditions.
Want to use a FREE Online Invoicing Tool? Check out Apptivo's Online Invoicing Software
Timely Payment Cycles and Automated Reminders
There are some clients who would not initiate the payments unless and until, you send the invoice. One of the added benefits of using online invoice is that you can send your invoices on time. Also, you can get paid instantly using credit cards when you send out online customer invoices.
Make online invoicing part of your freelancing tools. It helps you and also your client to keep track of the payments. Remember each client is different and online invoicing helps you to plug the loop holes in your invoicing process.
About Author: Maya Pillai is Blogger on Apptivo Small Business University and writes about ways to use Apptivo Apps for Business to increase productivity and streamlining the business management
Related posts: