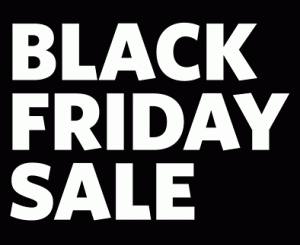 Thanksgiving Day is just around the corner. People are in the holiday shopping mood already. However, there are many who wait for the day after the Thanksgiving Day to kick start their shopping. The Friday after the Thanksgiving Day is known as Black Friday. The name was coined because it is a traditional day to start the Christmas shopping and it is believed that the retailers make good profits on this day. That is, the red ink on the account books is replaced by the black ink which denotes profits. It's that time of the year, when small business owners should do their bit to make maximum profits on Black Friday.
Manage an unlimited number of contacts for FREE using Apptivo's Customers App
Tips to Make Profits on Black Friday
Know the Preferences of the People – Long before you start your Black Friday promotions take a small survey to know the preferences of your loyal customers. Some of the hot items that weekend shoppers buy include clothes, books, CDs, DVDs, video games, electronic goods, toys and gift cards. Depending on the type of business you do, you have to decide on the items that you are going to put on sale, offering free shipping or special discounts.
Let the people know about your sale – Once you have decided on the products you will have on display to sell, it is time to start marketing. Let your existing customers know about the killer sale on Black Friday. Send personalized emails or postcards.  Do not forget to tap the social media channels such as Facebook, Twitter and others to reach out to the prospective customers.
Make your promotional campaign for Black Friday different from your regular marketing – Do things differently. Make your sale seem exclusive. Many shoppers would not like to shop when the store is crowded, so open the store by 10 AM. Also give extra discounts for those who come during specific hours, let's say between 1 PM and 7 PM. Also participate in an extended shopping day because it leads to increase in your revenue. If you are planning to keep your shop open for extra hours, ensure that you employ additional help. Do not keep the customers waiting for completing their transactions.
Shoppers look out for freebies – It is a fact that holiday shoppers prefer to shop in those stores that give ample freebies and discounts. As a small business owner, keeping your budget in mind, give away attractive and useful freebies on your products. If you are running a cake shop, you can actually give a 5percent discount on the product or you can give an additional slice of cake as a freebie. Give special discounts to those who order online. This will increase traffic to your site.
Boost your sales through private shopping event – It is a fact that small business owners cannot compete with large retailers such as Walmart and Best Buy. However, you can attract your regular and existing customers by sending personal invitations telling them about the exclusive discounts. This will make the shopping experience more intimate and helps to create a strong relationship with your customers. Depending on the value of their transaction you can reward them with anything ranging from gift coupons to premium digital products.

Work with other small business owners in your area to promote your business - Consider working with local businesses to send out gift coupons and other promotional materials to the residents of your community. Collaborative marketing will cut down on your marketing expenses. Mailing coupons is one of the ways to attract customers to your store. For instance, you can give discounts to those who bring the coupons of another business with whom you have collaborated.
Did you know that this year Walmart will start some of its deals for Black Friday on November 24th, Thursday at 10 PM? You can find the details in their website. Small business owners should tap the power of the Internet to boost their Black Friday sales.  From last year onwards American Express is encouraging the small business owners nationwide to promote their businesses online and on-store by asking them to enlist with the American Express to receive free promotional and marketing materials. To promote the small business locally, American Express has launched the Small Business Saturday, which is the day after the Black Friday.
Related posts: