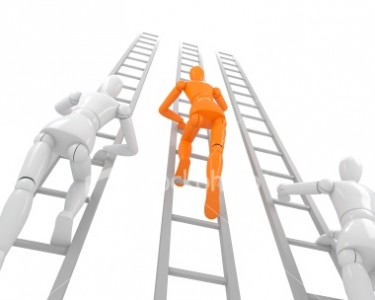 Every business has competition. How you handle that competition can be the difference between who comes out on the winner in the world of profits. So what's the best way to face down your competition in business.
Take Good Photos
Did you know that good photographs of your executives and staff regardless of education will lead to potential customers to assume they are the most skilled. In a recent study executives with a high degree of education were photographed poorly, and executives with a low degree of education were photographed well. Every time those quizzed believed that the well photographed bunch were more educated, more skilled, more competent, then the poorly photographed group, which were actually the group that was more educated, more skilled, more competent. The lesson here is to spend the money on good staff photos. It may be the simplest thing you can do to face down your competition in business.
Manage an unlimited number of contacts for FREE using Apptivo's Customers App
Spend Wisely – Reduce Your Expenses
He who plays the game the best will win. When it comes to facing down your competition in business you need to do it smarter than them. Keep your expenses lower by being wise about those expenses. Seek out suppliers that offer the best pricing. Negotiate contracts. Don't just settle.
Be Creative to Get the Sale
When it comes to sales outthink your competition. Market your products in a manner that's different or better than the competition. Develop a strategy that makes you stand out from the competition. That has the consumer that needs to chose between two or more businesses choose you. Be creative, think outside the box, so that you can attract the customer, and land the sale.
Increase Your Advertising Budget
One of the biggest mistakes that a business can make is to reduce the amount of money they spend on advertising, when they should be doing exactly the opposite. But you should not just increase your advertising budget you should use it more effectively. Pay attention to the advertising that works and the advertising that doesn't. Use methods that the competition may not be using, and don't ignore the internet – there are infinite possibilities for advertising here.
Offer Exemplary Customer Service
Customer service is not what it once was and consumers are tired of being treated this way. If you want to take customers from the competition offer exemplary customer service. Make the experience memorable for the customer, offer fair return/exchange policies, make it easy for the customer to talk to management, and let them know you care.
There you have it – These tips are great in helping you face down your competition in business.
No related posts.