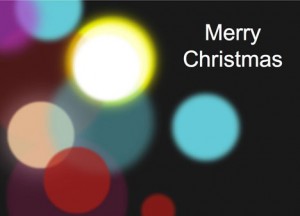 With just under five weeks until Christmas, time is running out for small and medium businesses to get themselves ready for the biggest festival shopping event of the year. It's been a tough year for all businesses with global economic slowdown and it's going to be harder than ever for the businesses to rake in a good Christmas holiday season. If you want to make a good impression this Christmas, you need to start thinking about marketing, rosters and other aesthetics of your business. Remember that Christmas is all about preparation – it is a peak time for everyone and you need to be thinking about everything well in advance if you want your business to bring about a profit. We have put together a list of things that will help you get started to make your business a success this holiday season.
Five Ways to Prepare your Business for the Holiday Rush
Create a mailing list – Make an email and a snail mail list of your customers as a part of your marketing campaign. Remember, letting your loyal and potential customers know about the deals that you offer during the Christmas season is crucial for the holiday sales. Your marketing efforts have to be planned well in advance for every week in November and December. Understand, Christmas is not a time for you to react to economics conditions, you have to be proactive.
Keep your customers and suppliers informed – If your business will be closed during Christmas week, let your customers and suppliers know well in advance. Maintaining a working relationship with your suppliers would be an added advantage during Christmas season. Reason being, you would get the best lowest price possible and the goods would be delivered on time. Therefore, have a product and logistics strategy in place along with that of marketing strategy.
Employ additional staff – There is going to be a holiday rush, therefore employ additional staff who are qualified enough to handle the high influx of customers. Prepare for the Christmas rush by planning well in advance and maintain the roster properly to ensure you're ahead of the competition. Also keep in mind, not to employ too much extra help as it will take a toll on your profits.
Understand what the customer wants and deliver - A simple customer survey would help you to understand the mood of the customers and what they are willing to invest in this holiday season. You can conduct an online survey by engaging them on Twitter or Facebook. Use two-way conversations to understand your customer purchases.
Optimize your website for smartphones and tablets – This holiday season, most of the shopping could be done online. Ramp up your SEO marketing campaigns. Remember, today more consumers are using smartphones; they see a television ad, pick up their smartphones and go surfing. Therefore, spruce up your website and optimize them for mobile and tablet. Have online Christmas promos to encourage online purchases. It is worth mentioning that Google AdWords gives importance for keyword searches for Christmas specific terms. Does your pay-per-click campaign have a plan for this?
Christmas sales are all about planning in advance. However, don't just think about Christmas, plan for January too. Take a break and reflect on the business achievements of the current year. This will give you an opportunity to make new plans and revise the old ones for the New Year. Have fun, because this season comes once a year.
Please share your inputs and thoughts about how to prepare for the Christmas rush 2012.
Related posts: