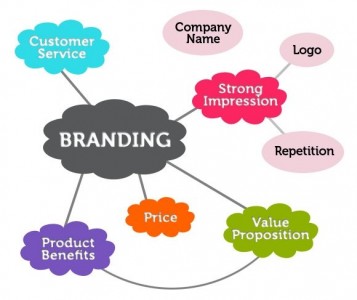 One of the most powerful elements of any business is branding. It is a misconception among many that creating a brand for a company just ends with the company logo. It is worth mentioning that logo is only the beginning of your branding exercise. The reason is that the consumers identify your products or services by the logo, which portrays the vision, mission, values and the goals of your company.
Never lose potential sales using Apptivo's Opportunities App
Why is Branding Important?
Branding is a strategic ingredient of your business because it helps to identify your
products/services. It is worth mentioning that branding is not about forcing the
consumers to make hasty buying decisions. It is more about creating awareness about your company's goods and services, the benefits and the values of your business. One thing all small businesses have to keep in mind while building a brand is that their product/services should be easy to recognize, respected and they must create an impression in the minds of the people.


Companies should emphasize on branding because-
* Branding help consumers identify your product/service. If you offer quality services and products, you can convert them into your loyal customers. This leads to repeated purchase.
* Remember, word-of-mouth publicity forms an important element of marketing. When you brand your goods and services, it will be easier for your current customers to refer your products/services to their peers and acquaintances.
* Branding sends a strong message about the quality of your products/services to consumers. It helps them know what to expect. In brief, branding adds value to your business.
How Consumers Help in Branding?
Until you have a customer, you don't have a business. Keep this in mind, always. If you have to choose between lead generation and branding, it is always better to opt for leads. The reason is leads generation is expensive and leads can help you in turning your business, which in turn can build your brand.
You very well know that 'customer is king' and the success of your business depends on how well you treat your customers. The impression that your services and products create in their minds should last beyond a single transaction. If your services are exceptionally good and if the customers are emotionally satisfied with your services/products, they help in building your brand by becoming your loyal customers, giving repeat business and spreading word-of-mouth publicity for your company. When you sell your products,ensure that the value of goods/services is equivalent to the price you charge. Branding goes beyond company logo, website and business cards. Branding is important to connect your products/services with the potential customers. Strong branding adds value to your core business.
The current trend is branding through social media. You can create brand awareness through various social media channels such as twitter, Facebook, YouTube, Google + and other platforms. If you are running your business on a shoestring budget, branding through social media is the best option, as information sharing and social interaction with your clients and potential customers is possible without spending much. Leverage the social media channels to grow your business, increase your revenue and customer loyalty.
Proper branding is critical to the long term success of your business.
If you are a small business owner, feel free to share your experience on how branding helped in the growth of your business. We look forward to your valuable comments and feedback.
Related posts: