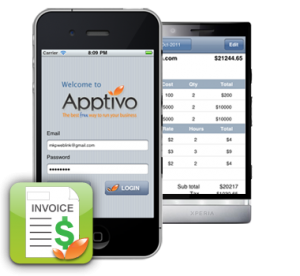 Small business owners are always on the move either attending seminars or meeting clients. Since, they are on the go, invoicing their clients at times becomes a herculean task even if they have installed an invoicing app on the cloud. The reason is they would have to rely on their laptops or any other mobile devices to log into their cloud-based invoicing software. This means they have to lug their laptop wherever they go. Instead won't it be easier if an invoicing app is installed on your smartphone device. An invoicing app is specifically designed to meet the modern day standards.
Benefits Of Using Mobile Invoicing Apps
Professional invoices create brand awareness- An invoicing app has a collection of pre-set template that are also customizable to suit your business. Company logo, full contact information as well as short and crisp personalized notes can be added. In brief, the invoices will have a professional look. Remember that the communication between a small business and the customer tells a great deal about the business. The invoice, is one document that shouts "professionalism" and is an essential part of branding and the brand's message.
Less time consuming- Using a mobile invoicing app allows the small business owner to attend to more pressing matters such as sales and marketing training, product development, meeting potential client meeting and so on. This app on the cloud allows the user to create, print as well as e-mail in fraction of a second.
Reduces Paperwork- Mobile invoicing app not only saves time and labor but paperwork as well. The data will be securely saved on the cloud and can be accessible to the user at any time anywhere. This means a small business entrepreneur can put an end to carrying large files while on the move, and keeping them secure.
Accuracy is maintained- The app will keep track of the invoices as well as the data that is keyed in by the user. Therefore, with a few punches of the mobile keys one can send, retrieve, and track the details of each and every transactions made.
Auditing becomes simpler- All the estimates, expense receipts, invoices and other financial documents can be saved on the cloud. This not only saves time but also make both internal and external audit simpler and easier. When the expenses are documented, expense tracking becomes easier. Calculating tax deductions and also paying taxes on time is possible with an invoicing app. In short, an invoicing app ensures that your finances are in order.
Integration of accounting software can be done seamlessly- Many mobile invoicing systems allow the integration of accounting software with invoicing app. When a transaction takes place, the data syncs with the accounting software, thus saving time. Also it increases the transparency by allowing the user to keep track of the transaction information in real time.
Get paid on time- Many invoicing app alerts the sender when an invoice is opened by a customer. The one of the attributes of a reputed invoicing app is "pay now." Using this button, the clients can pay immediately from within the invoice itself in matter of seconds.
Small businesses are usually busy and some of them may not have a dedicated person to handle the accounts. A mobile invoicing app helps to streamline financial transactions, creating brand awareness and get paid faster. Also business owners are always on the move and prefer to operate their business on the go. Mobile invoicing app makes it possible for them to carry their business with them wherever they go.
Related posts: