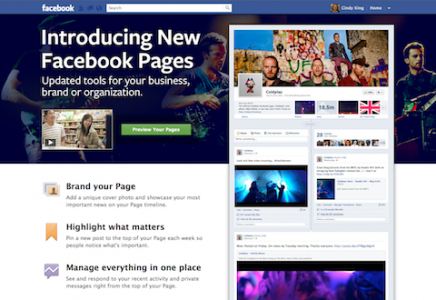 Did you know that the popular social networking channel Facebook is introducing new Facebook pages? If you have not logged on to your business' Facebook page in a while, then it is time you do so. Whether you are ready to make the changes or not, your page will undergo a major change come March 30.  That means you have only a few days left to update your brand page. We have put together a few ideas to change your business page.
Re-evaluate your social media plan – You should assess your social media marketing plans and see which plan is working best for you. Use Facebook Insights to reevaluate how your Facebook Page blends with your overall social media strategy. What are your goals? How do you plan to achieve these goals? How do you plan to monitor your brand through Facebook? How often will you converse with your audience? How often do you post Facebook content?
Cover photo to create everlasting impressions – Facebook pages are being converted to timelines, similar to that of a persons Facebook page. This includes a cover photo, measuring 852 pixels wide by 351 pixels high. Your image should grab the user's attention. Do note that Facebook has guidelines that you must follow. A few of the cover photo display guidelines include:
The price of the product
Contact information
User interface elements such as 'Like' 'Share'
Calls to action, e.g. 'Enter our new promotion here'
Display your brand through profile photo – Choose your profile picture wisely because it is the first thing user see while browsing through the search results. It is a good idea to use your company's logo as the profile photo. This will create brand awareness. Take note that the size of image should not be larger than 180 pixels by 180 pixels.
Customize your tabs – Custom tabs have been moved underneath the cover photo. If possible, it is important to change the custom tab image to the dimension of 111 pixels by 74 pixels. This is done to create a bigger, more attention grabbing icon for your tabs. Change tab names to 'Get 10% off' or 'Special Offers' to attract customers. Strategically arrange the tabs of importance.
Make changes to your landing page tabs – These tabs can be seen only if the users click on the tab icon. Use this feature to entice your fans to 'Like' your page if you want them to participate in voting contests and other promotional contests.
Use timeline to narrate the growth and other events of your business – Who wouldn't like to hear about your awesome business story? Use the Timeline to narrate the story of your business, going all the way back to its beginning. Mention important events, milestones of its growth and other achievements that your customers would be interested in. It's an opportunity to add a personality and share with your fans the hurdles you have crossed to reach where you are today.
Pin your posts – You can pin interesting content at the top left of the Timeline. However, you can only pin one item at a time and it will only be up for seven days. Create a special promotion which could be shared with new visitors.
Your fans can send private and personal messages – This is a beautiful tool which must be explored by your marketing managers to interact with potential and old customers. You can serve your customers on a one-on-one manner by answering their private and personal queries.
Timeline Page is used to create brand awareness and therefore, the content that is posted plays a vital role in your social media marketing strategies. Once you have published your Timeline, ensure to consistently create engaging updates and include milestones that you feel are important for your followers to know.
Related posts: