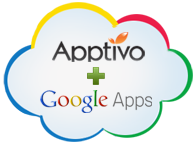 If you are an entrepreneur you will definitely realize the value of time. As it is frequently stated, time is money. In other words, speed is critical in achieving business success. If you complete your client's work in less time than your competitors, your business will stand out of the crowd. Google offers a host of applications specifically tailored to business. Google Apps is all about leveraging the power of modern technology to improving business functionality and associated processes. It makes businesses more efficient and user friendly, thereby resulting in a substantial amount of time saving.
The Advantage of being on the Cloud
An important fact all entrepreneurs should be aware of is that Google Apps are on the cloud. This translates into having the ability to access your documents, schedule, email and any other critical data from any place with internet connection. The great thing about it is that you can share access to anyone you wish to share a document, event, email with.
Let's take a look at some of the exciting and immensely useful Google Apps below.
Gmail
Most people use Google for its email service – Gmail. For those businesses who have their own domain and a work force of less than 10, they can move their email to Gmail. If you have more than 10 users, then you can upgrade to the business level for a nominal fee. Gmail makes the business more productive. It offers ample storage space so you do not need to delete any important data. Labels and filters aid in organizing your emails in a systematic way. Robust search features lets you find just about anything. Google Apps allows you to use your own domain for emails so they come as @yourdomain.com.
Drive
Information is a vital facet of every business. It is desirable to have watertight security and convenient access to company data. Google drive is equipped with just that. It has the facility to share files with company personnel and clients. Different types of files stored in Google drive can be opened in your browser.
Calendar
You can schedule team meetings using this application. A great feature with Google Calendars is the fact that you can invite others to join your meeting. Google also gives you the ability to share your calendar with others so they can see your calendar. You can even publish your calendar on the web and display available appointment slots to valuable clients.
Docs
This is designed for collaborative work. Using this feature you can create mind blowing presentations, spreadsheets and documents. Depending on your requirements, you can make your documents public or private. You can also assign privileges as to who can see, make changes and comment on each document at any time.
Google Apps is worth every penny spent. It's popularity is growing by leaps and bounds with every passing day. So if you want your business to be on the cutting edge of contemporary technology, start using Google Apps now. Try out Apptivo's Google Apps.
No related posts.