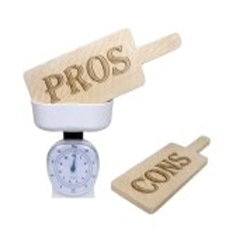 If you've decided it's time to move into the world of being an entrepreneur you have two choices – you can start a business from scratch or you can buy an existing business. There are a many reasons why busing an existing business why many lean towards purchasing an existing business, but you must remember that when you buy an existing business you bring with you the ghost of the previous owner. Let's look at the pros and cons to buying an existing business.
Pros to Buying an Existing Business
A great deal of the groundwork is already done since the business is already up and running.

The market for the product(s) and/or service(s) you will be selling is already established.

It can often be easier to obtain financing because the business already has an established track record.

There is likely established customers, which means there is a reliable income, and a good network of contacts already in place.

There should already be a business plan and a marketing strategy in place.

Many of the problems that businesses run into have already occurred and resolved.

The business will be more forgiving to the market than a new business.
Cons to Buying an Existing Business
You will likely need a significant amount of working capital to aid with cash flow.

Generally, a large amount of cash is necessary to make the actual purchase.

You will need to budget for accountant, attorney, and other fees.

You may have to renegotiate or honor any contracts that are already in place with the current owner.

You should dig deep to ensure you know the real reason why the current is selling the business.

You should evaluate how your taking over the business will impact the business.
Buying an existing business has plenty to offer the entrepreneur that is either entering the market for the first time or is re-entering after exiting another business. It's important that only do you evaluate the pros and cons but you evaluate your personality, your commitment, your lifestyle, and what your expectations are. It's also important to have an idea of what capital you have available to you. While a new business can often cost less to get up and running, it's also more difficult to obtain funding because there is no track record. There is no right or wrong answer here, only what's right for you.
No related posts.