Online business presence is practically mandatory these days. If your business does not have an online presence, you are nonexistent to potential customers. Most businesses try to build their online presence through websites or blogs, which are great in our opinion, but are just too time consuming and sometimes expensive to build and maintain. So how does a Small Business Owner go about building an online presence quickly? The answer is Apptivo Biz Pages.
Manage an unlimited number of contacts for FREE using Apptivo's Customers App
It is unnecessary to spend hour after hour laboring over how to create a website. There are no costs associated to making an Apptivo Biz Page. Creating a Biz Page is as simple as 1-2-3. Sign up for a free account with Apptivo and start using the Biz Page App.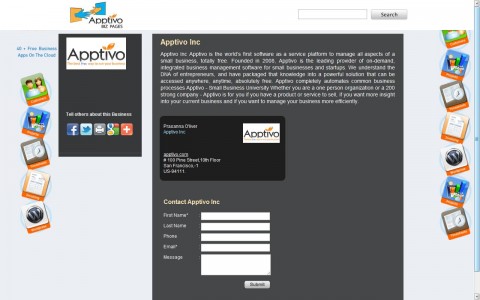 Write a brief description of your company explaining what differentiates you from other companies. Upload your personal business logo for exposure. Include contact information so people know who to contact and where.
Feel free to change the background image to your likings. Display a relevant picture of your business venture.
Instead of having customers come up empty handed when searching for your business, send them to a page where they can learn more about your company. Direct current and potential customers to your Biz Page.
You will only benefit from creating a Biz Page. Making your online business presence known is crucial to the success of your business! This app is about helping your business get its name out there without having to go through the various difficult steps of creating a website.
Looking for a place to share your business? You have nothing to loose and all to gain. Create one today!
No related posts.