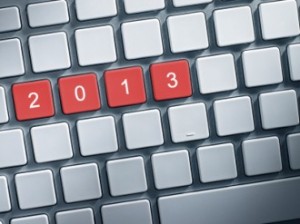 "Small business needs to start growing again before we finally see strong growth in the overall economy. Small-business growth will translate into more hiring, increased needs for commercial real estate, capital expenditures and an increase in borrowing," Terry, President of Sunovis Financial.
Year 2012 has been a combination of ups and down for small businesses. With 2012 behind them, they are looking forward to seeing what's in store for them in 2013. A survey conducted by Aweber Communications reveals that small businesses are preparing for growth in 2013. The research also revealed that 68% of small businesses have plans to increase their marketing budget in 2013 while 9% plan on maintaining their current level of budget for marketing.
Embracing Social Media – Small businesses are likely to exploit the power of social media for branding and marketing their products and services. The survey conducted by Aweber shows that small businesses are likely to increase their social presence by 70% on Facebook, 50% on Google Plus, 58% on Twitter, 49% on LinkedIn and 72% on Blogs.
More opportunities for remote workforce – Thanks to the growing popularity of cloud based applications and reputed SaaS providers, many small businesses are hiring workers from across the globe. Collaborations tools can help build a cohesive culture among the various remote workers of an organization. Video conferencing has becoming a critical tool of communication.
The Internet would be the most happening place – The physical shops may slowly give way to internet shopping. Today, almost every product can be found online. Virtual shopping stores have drastically changed the supply chain for many businesses. Small business owners need to smarten up their websites to add value to their business.
Mobile shopping – Today's customers wish to shop on the go. This has led to the popularity of shopping from your mobile device. Therefore, small businesses must start giving importance to making their website mobile compatible.
Build an online community of supporters – Instead of spending on expensive paid online advertisements, invest in long-term strategy of building online customer support. These are people who increase the publicity of your company's products online.
A survey by Ontraport, a provider of business and marketing automation platform, reveals that small businesses will not only grow this year but will also hire additional workforce. The survey was conducted across a broad section of small businesses including retail outlets, restaurants, information marketers and financial services. At the same time, a study by PricewaterhouseCoopers shows that many family owned businesses, which are classified as small businesses, are optimistic about the growth prospects compared to the previous year. To put it briefly, this year is going to be a year of drastic changes for small businesses.
No related posts.