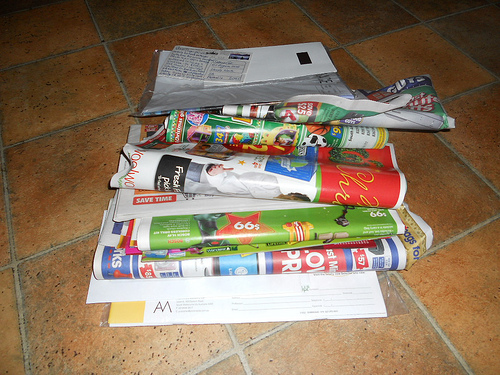 Source
If you want to pursue a career in direct marketing design these action steps are perfect to get you started.
1. Stop Tossing Out Your Junk Mail
You want to learn about the marketing materials you'd be designing. Keep all the sales letters you receive in your e-mail. Sort the letters and mailers into categories so you can easily look at the information you've collected. As yourself
What grabs your attention and makes you open the mail?

What grabs you to examine the promotion?

What colors seem to draw you in?

Is the order form easy to fill in?

Which promotions did you just want to toss without ever opening them?

What was it about these promotions that elicited that response?
2. Learn All There is to Learn About Direct-Marketing
Here are two direct marketing organizations that offer all kinds of industry specific information:
1) Direct Marketing Association
1120 Avenue of the Americas
New York, NY 10036-6700
2) Your local Chamber of Commerce
There are plenty of useful online sites that can also help you. There's a great deal of information openly available so do your research.
3. Get Trained
There are all kinds of resources available for direct marketing design and graphics design. Don't wait – start finding and reading material online. And visit your local library, local printer shops, and anywhere else where you can learn more about the industry.
4. Prepare to Take on Freelance Work
Here's a new business self marketing philosophy for you. Rather than trying to find ways to drum up business; look for ways to help someone. You will find opportunities where you least expect them. If you need to get your feet wet, start with smaller assignments and build your portfolio. Before long you'll have the experience and the confidence to take on anything that comes your way.
Manage an unlimited number of contacts for FREE using Apptivo's Customers App
5. Locate Clients
Without clients you do not have a career in direct marketing design. Here's some tips to help you find new clients.
Join your local Chamber of Commerce – Offer to do some free design work for upcoming events and be sure to network.

Look for opportunities where you live. Be free with giving out your business cards or brochure to local companies that may use your services.

Look for opportunities online. Create a website, use services like Guru or Elance to find new clients.

When you see a company has placed an ad for full-time designers, contact them and offer your freelance services for any overflow work they might have. It gets you in the door and then you can network off that connection too.
There's no get rich scheme here. Just a slow steady pace to build your profitable direct marketing design career.
No related posts.