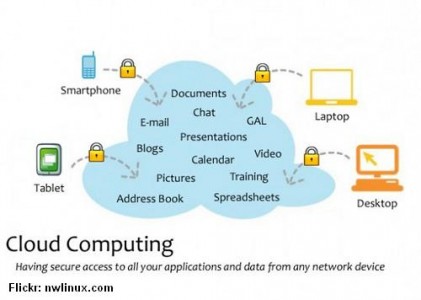 Today's small and medium businesses (SMBs) are technology hungry. Realising the benefits and value technology can bring in to their business, SMBs are embracing advanced technologies at a rapid pace, and are spending big time on their IT infrastructure. They are constantly looking for customized solutions and products suitable to their business needs. Increasing IT spend by SMBs is a clear indicator to the fact that they are serious in adopting latest and innovative technologies.
Want a FREE Project Management tool? Check out Apptivo's Project Management
Catering to the technology needs of SMBs, IT vendors are also in a race trying to fulfil the IT requirements of SMBs by offering cost-effective solutions. It is learnt that SMBs are going in for cloud services and virtualization in a big way.
According to the findings of a latest study 'State of SMB IT' from social business network company Spiceworks, nearly half of all SMBs use cloud services. The survey, which covered 1,200+ SMBs, also revealed significant growth in Tablet Usage and Virtualization Adoption while IT budgets for the second half of 2011 saw the greatest jump in more than two years.
Survey highlights:
Adoption of cloud services continues to rise rapidly among SMBs, while virtualization is still their top IT initiative
- Cloud services are now used by 46 percent of SMBs, a significant rise over the 28 percent that reported using cloud services in the first half of 2011 and the 14 percent that reported doing so mid-year 2010," states the findings of the survey.
- Virtualization continues to dominate the SMB market. "Currently, 61 percent of small and mid-sized businesses use virtualization, which is up from the 54 percent that reported using virtualization during the first half of 2011.
IT budgets see the largest increase in two years as SMBs continue to add IT staff
- Overall IT budgets in the second half of 2011 grew 9 percent when compared with IT budgets for the first half of 2011 – the largest increase in two years. The average annual IT budget for SMBs now stands at $143,000, up from the $132,000 previously reported for the first half of 2011.

- Nearly one in three SMBs, or 31 percent, plan to hire IT staff – which is consistent with data reported for the first half of 2011.
Tablets are becoming more popular among small and mid-sized businesses
Fifty percent of SMBs have deployed or plan to deploy tablet devices, such as iPads, within the next six months.
"Despite market fluctuations, 2011 proved to be a great year for disruptive technologies as SMBs increasingly adopted tablet computers, cloud services and virtualization technology," says Jay Hallberg, co-founder and vice president of Marketing for Spiceworks. "The results of our most recent survey show SMBs making similar strategic technology investments with expanded budgets – pointing to a stronger market for IT products and services among SMBs in 2012."
SMBs today require all the capabilities of large enterprises. They are facing the economic challenges and are not shying away from making right investments, especially in IT.
No related posts.