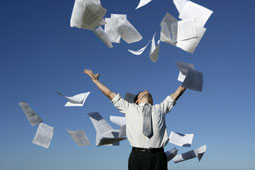 Generally small businesses have to struggle harder for financial success and growth as compared to the larger players. Going paperless is an effective and useful strategy to help small businesses compete in the marketplace today. We look at some of the advantages of going paperless.
Saving Space
Real estate is costly today especially in large cities. Substituting electronic documentation for the existing physical documentation ensures that a substantial amount of office space is saved. The result is   that more money is available to invest in core business areas.
Environment friendly
Many trees have been cut down to generate the paper used in offices. With the arrival of paperless offices, several trees are saved from human destruction. This results in a better environment for now and also for the future generations. Also, it improves the firms standing among environmentally conscious clients, customers and employees. Traditionally, important documents were transported by road, rail or air but today with email, it helps save fuel and reduce vehicle pollution.
Saving Costs
Lesser staff is needed to look after company documents in a paperless system. Operations become faster and more efficient as less office space is required to run the company. There is no need to print and ship documents physically. Emails can be used to send documents which are far quicker than physical document delivery.
Enhanced Security
Physical documents are vulnerable to theft, natural disasters and tampering. Electronic document management systems offer better security and assign different privileges to different staff members. Views and alterations of the documents are recorded for safety and quality purposes.
Boost customer service
With a paperless office you don't have to laboriously search for documents. The software will fetch what document is required by customer or staff in a matter of seconds. So no more excuses for buying time from customers. The result is improved productivity and enhanced customer satisfaction.
Make more money
There is certainly some money needed to be spent on staff training, hardware and software. However the substantial and rapid profits realized are well worth the initial investment. This applies particularly to small businesses.
Convenient
You do not need to rummage through several files to find the relevant document(s). Document retrieval is at your fingertips now.
Robust disaster recovery
Unlike paper based systems, electronic storage is either unaffected or only slightly affected by natural or man made disasters.
Paperless offices are in vogue and are the future too. Switching your small business to electronic document systems is a necessity today rather than a luxury. It may take time to adjust to a paperless systems but it has proven very beneficial to many firms who have adopted the system.
No related posts.