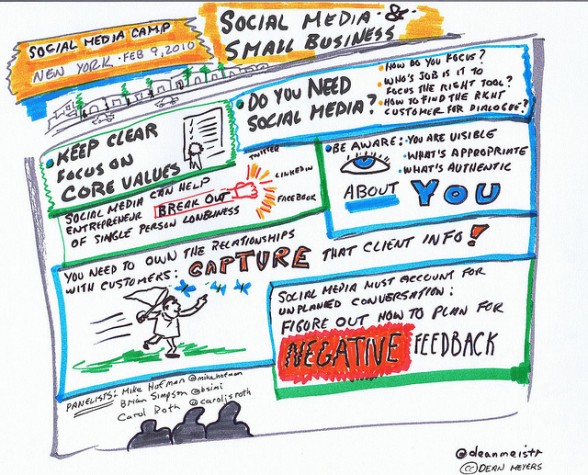 Social media channels are a wonderful platform for networking, exposure, branding and to attracting traffic to your website. A well planned social media campaign will give an edge over your competitors. Are small businesses or online businesses using social media correctly?  We have put together a few useful tips to help small business owners use social media effectively to reap success.
Effective ways to Use Social Media
Put together a social media marketing strategy – If you wish to make social media work for your business, keep aside a certain amount of time to plan social media marketing. Many SMBs dive into social media with little or no strategy at all. What usually happens here is that they tend to spam their users and don't know how to create brand awareness. When they end up getting no response, they lose interest and finally conclude it was a failure.  The success of using social media is determined by a strong marketing strategy to engage your visitors in the content you have published.
Be where your target audience are – Spend some time finding out the sites where your target audience spend their time. This will give you firsthand knowledge about where you should post your blogs and make regular updates. Creating awareness is a way of brand building and lead generation.
Do not ignore the social aspect of sharing – Search engine rankings depend on social signals, i.e. a link that is shared more times will be ranked higher in search engines. In social media it is not about you alone; you have to return the favor by sharing the link of your followers and they will reciprocate the action. If you are not willing to share the work of others, do not expect your work to be shared. Remember that social media is all about building and maintaining good relationships.
Talk less, listen more – The aim of having an account in social media is to create brand awareness and expose you products and services subtly. This is a great platform to exhibit your knowledge and expertise of your niche area. When you have a good fan base, it is always better to keep them engaged. Here you can give them tips, suggestions and insights into the goods and services that you deal with. Do not forget to answer their queries and clarify their doubts. When you post something useful and interesting, it goes without saying that you will have the most captive audiences who could be your potential customers in the near future.
Do not relay heavily on social networking automation tools – Keep in mind that social media followers are not dumb. It is a fact that social media is a platform to showcase your business and your area of expertise. However, if your blogs and posting do not have a human touch, then the followers will understand that it is automated. Eventually, they will tune you out.
Analyze your social media efforts – It is not just about being on the latest social platforms, it's important to listen and share great content. You need to take time out to evaluate how much traffic is being generated. You must understand the preferences of the followers of the various social sites and strategize accordingly. You can use that data to generate leads.
Social media marketing is the latest marketing trend. It is here to stay, so it is wise to make use of this because it is very cost-effective, generates new business leads, builds loyalty and is a great platform to share information and connect with people globally.
How are you using social media?
Flickr image by deanmeyersnet
Related posts: