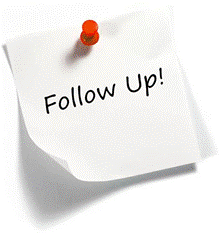 As a small business owner, acquiring and retaining customers is a major priority. However, many firms do not understand the importance and techniques of following-up in a business operation. Do you have an impressive number of leads but business does not materialize? This typical scenario repeats itself time and again. The cause is fairly simple – shortcomings in the follow-up process.
While small businesses are aware that follow up are critical, the ones who are masters at them are a small minority. We look at effective ways to transform you into a virtuoso of follow-ups.
Remember not to sell and forget
This is a common but avoidable mistake. Many people believe that when the product or service is delivered to the customer, their job is complete. Not true at all! Don't let the all important customers assume that you have forgotten about them. Follow up and check whether they are satisfied with the product or services. This is also a great opportunity to request referrals. You can ask them whether they are interested in upgrades and/or add-ons.
Make your loyal clients feel special
Following up on existing clients makes them feel acknowledged and appreciated. Express your gratitude for their loyalty and let them know how you truly value their trust.
Reconnect with ex-clients
It is an unpleasant prospect but ex-clients do exist in almost all small business groups. Politely inquire the reason for leaving your business and finding an alternative. Their feedback can be some of the most valuable feedback to help improve your business.
Follow-up is not always about business
The aim is to build a strong relationship with your customer. It is important to stay connected and keep communicate open. Let them know that you remember them and genuinely care for them.
Planning is key
Have a systematic follow-up plan in place. This way you won't forget to follow up and continue to increase sales productivity.
Optimism and happiness
Do not follow-up when you are irritable or furious. There should be uplifting energy and enthusiasm in your voice. Customers may not understand why you are upset, which may lead to them choosing alternatives. Be positive and energetic while making the follow-up.
Remember, consistent practice and perseverance is sure to make you the master of follow ups. Additionally, you will discover how enjoyable and rewarding those follow-ups can be.
Related posts: