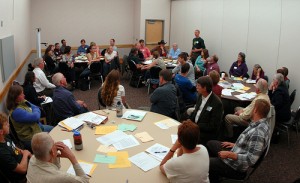 "Nothing splendid has ever been achieved except by those who dared believe that something inside them was superior to circumstance." – Bruce Barton (American Author and Politician)
If you want to put in place an effective retention strategy, it is mandatory that you do something to boost your employee's morale. It is a fact that if the morale is poor and if your employees dread coming to work, they are unlikely to stick around for long. This in turn will reduce the productivity and the profits of your organization. With the economic slowdown, many small business owners are not able to give a raise to their employees; instead there is a hike in their responsibilities. The morale of the employees will hit the bottom when such a situation arises. As a small business owner, what steps can you take to boost the moral of your employees?
How can you Improve Employee Morale in your Organization
Listen to your employees – When you notice that the productivity of the organization is showing a downward slope, do not hesitate to talk to your staff. When the owner of the firm takes some time to speak with his employees, it will make them feel that they have someone who will listen to their woes. "Acknowledge the stresses and circumstances that your employees are feeling," says Arlene Vernon, president of HRx Inc, an Eden Prairie, Minn.-based HR consultancy. This is an important way to improve the morale of your employees. When you chat with your staff, you will get the gist of the problems they are facing, whether it's if they are happy with their job to the training required.
Appreciate and celebrate their achievements and accomplishments – Appreciating an employee when he accomplishes something is a number one motivator. When your employees put in the extra effort to go an extra mile to accomplish the task, be graceful enough to appreciate them and arrange a small celebration. A raise in salary is not all that matters, small events such as appreciation and celebration shows that you care for them.
Make time for one-on-one conversations – Whether it is a recession or not, it is advisable that business owners have a one-on-one chat with its staff. This will help you understand the needs of your employees. Many owners are reluctant to do this because they fear they will not be able to satisfy their employees. One-on-one conversations are also important when an employee wishes to leave the company. An honest discussion before he or she leaves will give you an understanding to why he or she is quitting. You can use this knowledge to prevent other staff members from quitting.
Avoid employee burnouts – Do not overload your employees with too much work. One of the problems faced by many small firms is that when one of the employees leave, his work is handed over to his co-workers. The boss or manager doesn't even bother to find out whether the other person is able to do the work or not. This will lead to a certain degree of job dissatisfaction. Therefore, the quality and productivity of work will decrease. Owners instead should step up and find out the whether a particular job description will fit a particular employee before handing him the task. "Evaluate your expectations so you're not burning out your employees — and at the same time not compensating them for it," says Arlene Vernon.
Do not forget to have fun – To break the monotony of work, encourage team building exercises and other games once in a while. Organize a potluck party on the last working day of the week once a month. Many employees love the idea of showcasing their cooking skills. Think about arranging a get together on holiday's or ask your employees to work at a charitable event and later take them out for lunch or dinner. This is one way to create a bond between you and your employees.
Allow the employees to pursue the project they're passionate about – Grant your employees with a project they would be passionate about. This will surely energize and boost the morale of any employee. You can set fixed hours on certain days where an employee can work on his personal project and at the end of the month they can showcase their project(s) in a presentation.
Arrange for training and development programs – One of the reasons many employees leave a firm is due to inadequate professional training and lack of development. You can arrange for training sessions with experts and seasoned veterans once in a while. Another way to boost the employee morale is pay the employee to attend a local trade conference.
Give small perks – Perks need not always be monetary. Giving your employees the provisions to work from home a couple of times a month or giving them flexible times will have a big personal impact. Instead of giving a $100 bonus, arrange for a fine dinner for your employee and his significant other at a local restaurant. This would be well appreciated and something for him to brag about.
An employer has to be transparent and keep his staff in the loop. This will give them an idea about what's happening in their firm. Genuine interest and concern for your employees will increase the productivity and profits of your business.
Flickr image by Forest Service – Northern Region
Related posts: