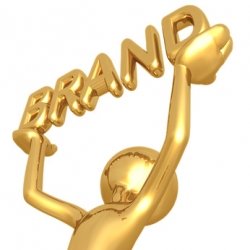 Perhaps your business is brand new. Perhaps you just acquired it. It may even be a business you have built from the ground up. If it does not have a brand as of right now, your business could be losing out overall. Many small businesses struggle to develop a brand because it is not something that is easy to learn and do. In other words, unless you have put forth the effort to building a brand, it is likely not something you thought of doing. However, your brand is what people know about you and it could be a tool you use to increase your revenue.
Want a FREE Project Management tool? Check out Apptivo's Project Management
Brand Example
Are you unsure what a brand has to do with managing your business and growing revenue? If so, consider a company that you likely know that has taken a very simple task, the act of buying coffee, and crafted it into one of the biggest businesses today. All of this, the company accomplished by building a successful brand. You likely have heard of Starbucks, and it is the prime example of what a brand image can do for a business. Coffee is no longer just coffee. You go there not only to get coffee, but also because it is a welcoming atmosphere and a good place to meet people you may know. If you can apply the type of brand image this company created into your own company, imagine the success you could have within your own business model.
Following three tips will help you to get on the right track towards building a successful brand:
Build an Image
Help People Learn About You
Meet Your Customer's Needs
Build an Image for Successful Branding
One of the key aspects of building a brand image is to force people to do something they are not used to doing. In other words, you need to encourage people to step out of their comfort zone and to buy from you. You need to create a brand image that is powerful enough to encourage that to happen.
To start the process, choose the right name for your company. The name of your business says a lot about what your business is. Any name can be memorable if it is in front of the customer enough to create a brand image. Think about the name of a nationwide toy store, for example, or perhaps that national coffee chain. Their names may be unique, but you know exactly what they offer whenever someone says them. To create a powerful name that customers remember, be creative and be sure to choose something that offers a lasting emotional connection for your customers. If you want customer to think of the business as a family business, use a family name. If you want people to know it is cheap to buy there, incorporate that into the name.
Help People Learn About Your Brand
The next step in building a brand is to get known. It is not easy but you can do so by using the power of the dollar and social media, too. Social media has become one of the best ways to build a successful business because you need nothing but an Internet connection to get started. It used to be that it would take businesses years to build up a reputation and they often had to use stages such as advertising campaigns, trade shows and direct marketing to do it. Now, social media cuts out the monetary factor altogether.
Get online through various social media sites including Twitter, YouTube, Facebook and others.
Listen to what other people are saying about your business. Interact with them. Ask them questions.
When using social media engage others. Ask people their opinion or for information, avoid telling them. Be interesting, unique and creative. Be sure to say thank you and to engage in conversations.
All of this helps to build your business's success in the truest form. The key is to get into the public's eye by making a name for yourself in areas where it matters most. Remember that your business does not have to have a huge marketing budget to build a successful brand. You do not need to be featured in the Super Bowl ads to be known by customers. Using free social media is an excellent way for small to media sizes business to establish themselves. In order to be successful, though, you need to be active and play a positive role in the social networking world.
Meet Your Customer's Needs for Successful Brand Association
The next aspect of successful management of a business's brand is actually giving customers what they want. The statement sounds easy enough but it really is more than a basic process. If you are launching your marketing campaign to build your business, for example, be sure to give customers what they came to you for in the first place. But, what does the customer want when they come to you?
What would make the perception of your brand bigger and stronger?
Just how happy are customers with competitor's brands?
What will your brand do to use emotional connections with consumers who are not in the market to encourage them to become customers?
In some situations, it is a good idea for you to invest in professionally conducted market research to learn the answers to questions like this. If you want to succeed within the industry, you need to know what to do to hit the target for your customers and to do that, you need to better understand your customer's particular needs.
Build your brand image one step at a time. It is not a process that will happen overnight (unless you use some type of marketing tactic to get your business's name out there in a negative light.) However, building a brand image is something to make a park of your marketing plan. It could even be the best thing you do for your business. Ask yourself, what do you want your customers to know about your business? What do you want your business to be known for? If you can answer that, and mold it into a business brand image, you are already working towards success in this area.
No related posts.