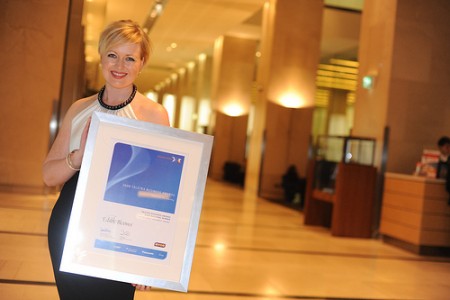 Winning an honor for your company is every entrepreneur's dream. Awards make your employees proud and it will set your business apart in the minds of your potential and loyal customers. However, you cannot win an award by just day dreaming about it or sitting by passively. You have to apply for the awards and enter competitions. We have put together a few awards and contents for small businesses; which you can apply for between the last week March and end of May.
• Biz 10th Anniversary Contest, last date for entry March 31, 2012
Whether you are a startup or an already established small business, you can share your success stories with viewers. You will have to mention how having your .biz domain has helped increase awareness of your brand image. The winners will receive awards and a best of .Biz seal to recognize their website.
• 2012 SCORE Awards, last date for entry March 31, 2012
SCORE awards are given to honor innovative and successful entrepreneurs. The various categories SCORE awards include Outstanding Green Small Business, Outstanding Minority-Owned Small Business and Outstanding Veteran-Owned Small Business.
• Grow America Springboard Competition last date for entry April 6, 2012
This contest allows SMB owners to compete for cash awards and business services. The awards will help winners create new jobs or expand their business in such a way as to revive the local economies. Grow America will provide $1,000,000 in cash awards and resources over the course of three events in 2012 and well into the start of 2013 for the Utah State Championship.
• One Woman, One Franchise last date for entry April 6, 2012
This contest is on Twitter ((#OWOF) for women. Participating woman should be interested in purchasing a franchise of Franchise King. The winner will receive franchise ownership advice from Joel Libava, the Franchise King, as well as a package of services to get you up and running with a franchise — including incorporation filing from CorpNet, a press release and a 6-month subscription to LivePlan.
• Leading Moms in Business Competition last date for entry is April 16, 2012
This contest is conducted by StartupNation for women in businesses who are also a parent. The judges will determine special awards and accolades for the top 200 moms.

• Inc 500/5000 enter by April 30, 2012
You can enter your business for this award if you are proud of your company's growth over the past 3 years. This award is only given to the best entrepreneurs and is considered to be the gold standard of entrepreneurial success. Your business will be listed along with other leading companies in the September 2012 issue.
• BBB Small Business Customer Service Makeover Contest enter by April 30, 2012
The contest is open to all small businesses located in Eastern Massachusetts, Maine, Rhode Island or Vermont. The contest is free to enter and the winner will receive up to $5,000 in cash and material funds. This will be an opportunity to receive professional advice, improve business practices and a chance to expose your business and create brand awareness.
• Downtown Ithaca's Race for the Space Enter by May 1, 2012
The winner of the Race for Space will get a package worth over $40,000 which includes free rent for prime office space, a one year advertising package in the Ithaca Times and more.
• 2012 Lanza Enterprise Awards Program (LEAP) Enter by May 3, 2012
This award is given to women entrepreneurs to boost their businesses and is organized by WEDC (Wisconsin Economic Development Corporation) in collaboration with LEAP. Cash prize worth $5,000 will be awarded to participants who attend the 15-week program provided they meet the award criteria.
• The New York Enterprise Report 2012 Small Business Awards Enter by May 21, 2012
The New York Enterprise Report Small Business Awards is the annual award program honoring the achievements and accomplishments of the 500,000+ small businesses throughout the tri-state area. This small business award will be given to a small business for their best practices, those who implemented programs to generate competitive advantages and profits.
For more details regarding each contest, you should visit their website. If you think we have missed any contests, please put it in our comments section.
Flickr image by nowwearetalking.photos
Related posts: