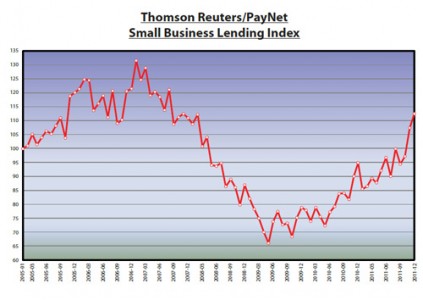 Small businesses are important to propel economic growth. They account for more than 60% of new jobs. However, their ability to create new jobs depends heavily on their access to credit. For the past few years, the demand for small business loans has progressively decreased. In the wake of the recent recession, the volume of sales had become less and there was uncertainty in the economic growth. The recession had also affected the lending ability of many banks as they were focusing on correcting the existing problems. Though the future looked bleak in the last few years, the market has picked up and the demand for small business loans has shown an upward curve.
A survey conducted by the Federal Reserve on senior loan officers of large banks reported that there's a 15% increase in demand for commercial and industrial loans for small businesses. This is the largest net percentage demand for small business loans since 2005. The survey also reported that businesses are inquiring about the new or increased credit lending of banks. Though most of the financial institutions have loosened their purse strings, most of the large banks have made little or no change in their standards of lending.
National Small Business Association survey reveals that there is a consistent increase in the demand for small business loans. It also reported that 75% of small businesses are confident that the economy will gain momentum in the near future and the volume of sales will show an upward trend.
According to the latest report of Thomson Reuters/PayNet Small Business Lending Index, compared to January 2011, small business financing has increased by 18%. The index also pointed out that many small businesses are repaying their loan amount. These small signs are considered a ray of hope for the economic revival.
In spite of the demand for small business loans picking up, many small firms are still facing significant credit barriers. Bank of America, providing credit to 1.5 million small businesses, want small business owners to pay their loan amount as a lump sum instead of monthly installment. However, Jefferson George, spokesperson of Bank of America, told the Wall Street Journal that more than 90% of their clients are renegotiating their terms with the bank.

A recent survey conducted by SurePayroll, a Chicago based small business payroll firm, reports that one in five small firms are planning to borrow to expand or take their business to the next level, in the months ahead.
Fred Graziano, head of the regional commercial banking, government banking and small business at TD Bank believes that demand for small business loans is gaining momentum. However, there may not be significant increases until the economy stabilizes.
Do you think this is the right time to start a business? Why or why not?
No related posts.