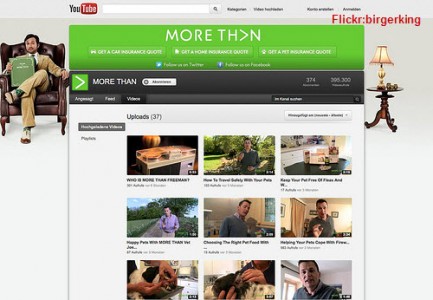 Creating brand awareness by making your product visible to your loyal clients and potential customers is an efficient marketing technique. Today, before making a purchase, the consumer makes it a point to do a little research about the product on the Internet. Only if they are satisfied with the product reviews and price at which you are offering your products/services are they willing to make a final decision. Therefore, as a small business owner, you have to pay more attention to the changing trends of online marketing. Video marketing is one such online marketing tool which has a lot of potential in the coming years.

What does "video marketing" real mean?

Video marketing is a new marketing terminology that is creating a lot of confusion among people. Before we delve into the subject, it is necessary that you understand the difference between 'marketing with video' and 'marketing a video'.
Marketing with Video – Here, video marketing means you have a video which tells about your product/service. You can incorporate a video into your newsletter or promotional item for your marketing campaign. Newsletters and promotional materials (hardcopy or softcopy) can be sent to customers/clients who have signed up for your newsletter, registered with you at a tradeshow or downloaded a whitepaper from you. This is your chance to market an already existing video.
Marketing a Video – This concept is used by business owners who are trying to create brand awareness by making their product/service visible to everyone. Promote your products by giving potential consumers a taste of your brand in a concise package online. These videos are usually posted on video sharing sites such as YouTube, Google Video, Yahoo Video and Metacafe. You can either post your videos manually or use third party tools such as TubeMogul. TubeMogul helps you post your marketing videos in several sites simultaneously. They also provide you with analytics to keep track of the number of hits/views across all those channels on a single dashboard.
Tips to make Video marketing work for your Business
Time has come when people prefer visuals over text. Video marketing is an upcoming trend in the field of marketing. Here are a few tips that will be useful to all new, as well as established small business marketers.
Decide the content of your video clips – The first step is to decide the content of your video. The content should provide details of your product as well as evoke interest in the viewers. One thing that you need to keep in mind is the content will have to vary depending on where you plan to post your video. For instance, you can give complete information about your products on your website. Your website can also contain video testimonials and updates of the services/products and promotions. However, when you post your clips online, it shouldn't be about branding, it should be such that it evokes the interest of the viewer and he clicks on the like to check for more details.
Decide where you want to post the videos -Video clippings can be posted on many social networking channels and also on many blogging sites such as Hubpages, WordPress, Tumblr and so on. You need to decide where you want to post your video content because you want to rank high in search results. Do not forget to post on Youtube, the most popular video blogging site.
Identify your target audience – Like any other form of marketing campaign visuals, always keep in mind your target audience while creating the video content. Their age, taste and demographics matter. Remember, when you embedded video in social media channels, you are exposing your products/services to a whole new audience world wide.

Video marketing is here to stay because the benefits are manifold. However, keep in mind that video marketing should be managed correctly for maximizing its benefit. Some of the benefits of video marketing include brand awareness, improved traffic and sales to your website, increased online visibility and thereby establishing your online presence.
Are you creating videos for your business? How goes it?
Related posts: