Real estate is a traditional example of relationship and sales driven industry. It has complex referral models and is built solely on commission incentives and long sales cycles. Remember, each transaction is unique and the real estate business operates in a very competitive environment where retention of the tenants and sales is directly related to the value of the asset and rate of return. Before we look at how online CRM can help change the functioning of their business, we need to understand three main challenges faced by real estate and mortgage related industries on the web.
The first and foremost challenge is the ability to attract traffic to your website. Not only that, your website should perk the interest of the visitor to get in touch with you.
The next challenge is to get the contact details of the visitor who could be your potential client. This is where online CRM will play a crucial role.
The final challenge is to convert the lead into a paying client in the near future.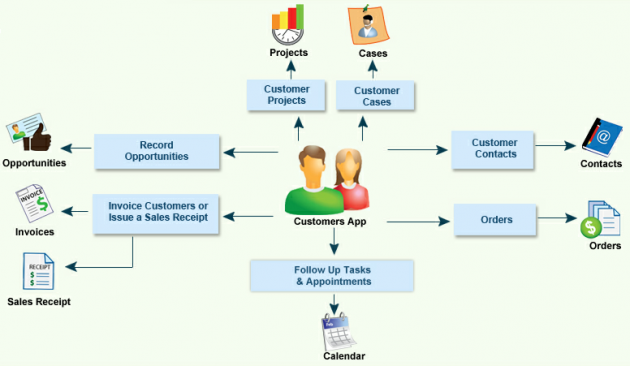 Benefits on Online CRM for the Real Estate Industry
Helps to keep track of the clients – You can store contact details and other preferences of your potential clients in a centralized location. All you have to do is get someone to enter the details in the database. By the click of a few buttons, you will get all the details of that client.
Better customer service will lead to an increase in sales – Once you have information on the buying habits and preferences of your customer, it will be easier for you to provide good customer service. Employees contacting the customer can further adapt their approaches according to the situation. If your service is at par with their expectations, then they are likely to suggest you to their family and friends. This will surely reflect on your business in the form of increased sales.
Simplifies marketing and makes it easier to achieve your targets – Complete details of  your customer is made available in your database. This will help your marketing department target a specific client/customer based on their buying habits.
Allow you to visualize the growth of your firm – You can create reports which allow a 360-degree view of your business. You can actually integrate your projects with CRM and phase it with milestones and target dates. This will help you make strategic decisions regarding revenue targets and capital structuring.
There are several CRM software on the cloud such as Apptivo, which has revolutionized the way real estate agents handle and organize their businesses. From rentals to sales to scheduling of transactions to the creation of reports and flyers, online CRM software is designed to keeping in mind the requirements of the real estate and mortgage industry. Choose a quality software solution that suits your requirements, easy to install and is user-friendly.
Related posts: