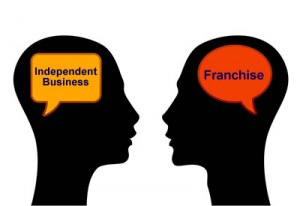 Selling a franchise is different than selling a standalone business. Selling a franchise can be beneficial since the customers are loyal to the business not the owner. For example, if you buy a burger at McDonald's you probably don't care who owns the joint but you do care about the burger. Franchises can be easier to sell over stand alone businesses.
Small businesses can be harder to sell because they are reliant the entrepreneur owners, where as a franchise business has the clientele that simply follows along because of the franchise "name" itself. There are millions of dollars worth of marketing done each year to promote that franchise name and product line.
Never lose potential sales using Apptivo's Opportunities App
A small business can be harder to sell because the plan to success is inside the founders head, whereas with a franchise, the system is in place that works and the training is included, along with ongoing support that ensures each franchise has a blueprint to success at their fingertips.
There are however some challenges to selling a franchise. Let's look at those:
1. Restrictions and Transfer Fees
Franchisors keep control of most aspects of the franchisees so the approval process for a potential buyer can be quite intense. Some franchises have restrictions that do not allow the franchise to sell for a specific number of years. There are also generally high transfer fees, mandatory training fees, and other fees that are worked into the franchise agreements. They are often a surprise to the franchisee.
2. Fewer Potential Buyers
The majority of potential buyers don't want to be tied to the rules and restrictions that franchises have, making them more difficult to sell. You either love or hate franchises, so while the buyer pool is smaller and you may find yourself waiting a little longer to find your buyer.
3. Competing Directly With the Franchisor
The drawback to selling a franchise is that the buyer really doesn't need you because they can purchase a franchise directly from the franchisor. It's a good idea to understand the rules of selling a franchise when you initially buy that franchise.
Franchises are a popular choice for many who want to enter the world of owning a business, but who feel they don't have the skills to go it alone. When it comes to selling your franchise the success of that franchise itself can also help to sell your business, but it pays to know the rules surrounding the sale of a franchise.
No related posts.