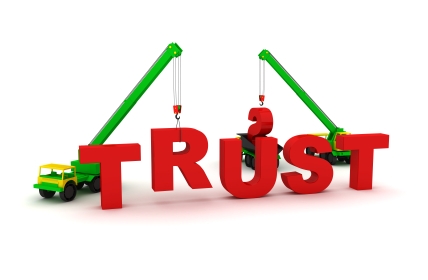 In today's market the small business actually has an advantage over the larger business in several areas but trust is the area where small business is winning hands down. It seems consumers are tiring of the antics of large businesses and have lost all trust in them instead turning to smaller businesses. But if you are just starting your small business, what then? These tips will help you quickly build trust and a strong customer base.
Want a FREE Project Management tool? Check out Apptivo's Project Management
Accountability
You should always have your employees share their names with customers. Wearing a nametag is an easy way to do this. You should also offer a guarantee to back your products/services. The stronger that guarantee the faster it will build trust. For example, offering a 30-day return policy or a 7-day no questions asked return policy are great ways to build trust and a strong customer base.
Honesty
Dishonesty is the fastest way to lose trust and customers. On the other hand honesty builds trust and customers. Be clear and concise with your communication. Make sure your policies are upfront and that your prices are clearly marked. Be consistent and have an open door policy with management so that if customers have questions or concerns they can easily speak to someone in management.
Let Your Customers Know What Your Values Are
You should take the time to develop your company's mission statement, and you should have that mission statement posted where your customers can easily see it. Many consumers are drawn to environmentally friendly companies, or companies that support the local community. Share your vision with your customers so that they know what your values are. On an additional note – companies who support local events and causes get media coverage and that bodes well for building honestly, accountability, and trust.
Tell the Customer About Your Business
Customers want to know the details of your business. They like to see photos of the staff, even pictures of family. It gives customers a warm welcome feeling. If you have a website an "About Us" page is a great idea telling a little bit about each employee.
Don't be Afraid to Self Promote
Don't be shy – self promotion is allowed and it's a great tool. Ask customers for testimonials. Setup your website so that customers can post testimonials or reviews. Make sure it's authentic, don't worry if you get a negative comment now and then, it simply helps to build trust. Use these testimonials to help build trust.
Consumers are demanding more these days. They're tired of the runaround and standoffish nature of many of the larger retailers and are once again looking for those characteristics America was built on – trusty, honesty, and integrity.
No related posts.