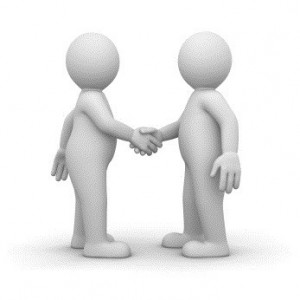 Although the government and pundits alike have spent the last couple of years talking about a turnaround in the economy (wishful thinking at best, blatant lies at worst), it looks like 2012 could actually be the year that the Great Recession begins to loosen its grip on the global economy.  If holiday sales and travel estimates in 2011 were any indication, Americans are beginning to spend some disposable income again, which means that people are willing to take the leap and reinvest in the economy.  And while this has yet to translate into jobs creation or a bump in the housing market, it could mean good things on the horizon for businesses stateside and even around the world.  So if you're looking to do more than just stay afloat this year, here are a few great ways to attract some new clients and make 2012 a bit more productive.

The place to start is by spreading your name.  Whether you're new to the business world or self-promotion is old hat, you need to continue to reach new people if you want the chance to attract new clients.  And there are many ways to go about ensuring that your name reaches the right ears.  While you could go for a blanket ad campaign in the hopes that it will deliver a few leads, you're a lot more likely to waste your valuable time and precious funds in this manner.  You need to tackle targeted campaigns if you want to effectively bring in new business.  So forget about newspaper, radio, and television ads for now (until you have the money to justify them) and focus your efforts elsewhere.

If you're looking to drum up business locally, try cold-calling companies that you think could benefit from your services.  Do your homework so that you can get the right person on the line, and then work out a stellar pitch so that you can score a meeting for a more intensive presentation on what you have to offer (that the other guy can't).  This may sound pretty basic, but if you are charismatic, knowledgeable, and skilled at what you do, you can really impress a potential client and score their business.  Of course, it also pays to move into the online arena (where you can get a lot more bang for your buck).

If you don't have a website, set one up.  Then use it as a promotional tool.  Engage in SEO (search engine optimization) tactics that will bring in targeted clientele, and reach out to industry blogs to comment, write guest posts, and even offer promotions as a way to reach people that already have an interest in what you do.  And don't forget to join forums; you can network with colleagues in your field in order to get advice and possibly even referrals.

Finally, take a moment to consider the impact of branding.  Just because you aren't in the same league as Coca Cola or Nike doesn't mean you should overlook the benefits that branding can provide (after all, these companies started small just like you).  Of course, there's more to it than custom signs and logo designs.  Branding really revolves around how the public sees you, so you need to consider how you market yourself, the way you interact with clients, and the service that you offer in order to assess whether your branding efforts (or lack thereof) are contributing to your business in a positive or negative way.

Evan Fischer is a freelance writer and part-time student at California Lutheran University in Thousand Oaks, California.

No related posts.