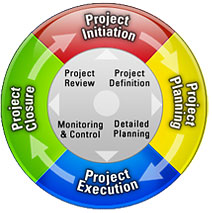 In simple words, project management software is a tool that helps managers and the members of a team plan, manage and successfully execute a project in a stipulated time period. There are various kinds of project management software ranging from desktop applications to online project management software. Web-based project management is the latest tool considered a boon to both employers and consultants. We have put together a few points on the benefits of online project management software for employees and consultants.
Benefits of Online Project Management Software
Online project management software facilitates virtual office – Employers have the opportunity to get in touch more frequently with their remote employees, hold meetings, and monitor their performance through any project management software. Similarly, consultants can get in touch with their clients and also other members of the project who are located in the various parts of the globe.
Task management becomes easier – Streamlining and keeping track of tasks not only saves time but also reduces the work load of those on the project and project managers. The reason is, they can focus on the completion of the project instead of consolidating spreadsheets and giving frequent status reports.
Real time document sharing and collaboration – Online project management tools has become a boon to consultants because they can avoid the nightmare of email attachments and mixed up revisions. Instead, documents will be stored in a central location and this can be accessed at anytime from anywhere. The cornerstone of all good online project management software is the collaboration functionalities which make it easier to upload and store documents, create libraries of documentation and finally collaborate on documents in real time.
Tracking time – Online project management software allows you to keep track of time you have spent on each module of the project or discussing issues with your client.
Customize the features – You can modify features, remove or even create a new feature according to your project's requirement. This requires no programming.
Online project management software enhances productivity – Both the project manager and the employee would benefit from web-based project management software. It enhances team work and increases the productivity since so much time is saved on operations such as updating, sending reminders and reports. Project managers can keep track of changes and evaluate the progress of the project, performance and the team members with a click of the mouse. Similarly, employees can see the milestones and progress of all the members of the project.
Employers have all the advantages of a desktop based online project management software at their fingertip. Even if the data on your computer/laptop is lost, you can always be assured that it is saved in the cloud. Hence choose online project management software that is designed to fit your requirements.
Flickr image by IvanWalsh.com
Related posts: