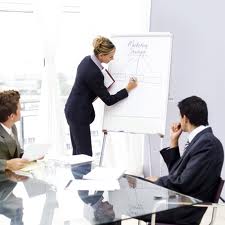 A project is any kind of activity that is associated with your business which has a clear beginning and end within a stipulated budget and time. Now the question is who will manage the projects? If the business is a one-man show, do you have the required skills to manage a project? If you are an entrepreneur, managing a group of people, does any one of them have the project management (project plan software) skills to save time, reduce cost and maximize profits? If your answer is affirmative, you are already ahead of the curve. If not, don't fret. With online project management tools like Apptivo's Projects App, you can easily plan and manage a project.
What is Project Management
Project management is the art of completing a project effectively and efficiently by applying knowledge, skills and techniques. Project management helps improve the performance of an organization or business, irrespective of its size.
One of the major mistakes that many small business owners and freelancers make is that they do not develop a process or system for their projects because they feel project management is not for them. It is important for you to understand that whether your small business is a one-man show or consists of a small team, you need to standardize your processes, systems and approach to complete your projects on time.  Why small business owners and freelancers need project management gives you an insight into importance of project management.
Project Management Checklist
Know your Business Drivers. This is important because it is likely to help to recognize areas where the project management techniques can be applied first.
Simple is best. When you are implementing the project management techniques for the first time, choose an approach that is simple to follow. If you are using an approach that is already proven, it makes things less complicated.
Get employees involved. Teach project management skills to your team members. Not only will this ensure that a project will be a success, this added skill will improver their value to your organization and business.
Test before you invest. Before you invest in a project management tool, test to make sure it works well for your business. Find out if it is easy-to-use, will provide expected return-on-investment in terms of money as well as time. Use a project management tool that will benefit you in the long run. Always choose an application that can handle multiple projects, can be accessed from anywhere and has plenty of support.
Want a FREE Project Management tool? Check out Apptivo's Project Management
It is time we realize that project management is as important for small businesses as for the medium or the big ones. It is not the size of the business that matters but the effectiveness and efficiency with which you run your projects. Ultimately, it's all about working smart.
No related posts.