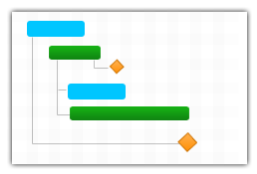 Projects are the core of many businesses. It is essential that all projects finish within the stipulated deadlines. If your firm executes projects to the complete satisfaction of the clients, then the path to business success is assured. In the past, projects were relatively simple and small, therefore easy to manage. However with the passage of time, projects evolved to become very large and complex entities. Most firms today use project management software to successfully execute all kinds of projects.
Apptivo has designed an easy to use yet extremely powerful project management software. Extensive research and time has been devoted to create an elegant as well as feature rich project management software. One of the prominent features of Apptivo's project management App is invoicing integration. You can collect payments through other merchants such as PayPal, Authorize.net or Zipmark. The ability to track billable hours ensures fairness and financial organization. The software ensures security as a top priority and shall not be compromised. Documents can be shared online among users. The time required to physically mail documents and travel is either completely eliminated or considerably reduced.
There is no denying that a quality project management software saves considerable time and Apptivo's project management application is no exception. The first thing it does is automate all the project management processes. This eliminates human error and speeds up project execution. By using Apptivo's project management system, everything is better organized. Productivity is greatly improved while pending tasks are completed on time.
If you have not leveraged the power of Apptivo's signature project management software, then it is a good time to start. Remember the adage 'Time is Money'. You can start by using the free version. Once satisfied, you can upgrade to the paid version. With the passage of time you will not only recover the nominal cost of the software but will reap considerable financial gains as well as customer goodwill.
No related posts.