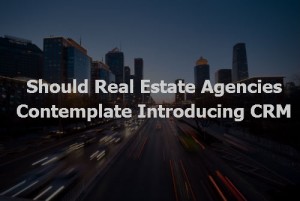 At a glance, selling and buying a home, a commercial space or piece of real estate may seem to be a simple thing. For those who are ignorant of the real estate process, it may appear something like one party wanting to sell while the other wants to buy once they reach a mutual agreement. The money changes hands and that's the end of the process. But it's not as simple as it appears to be.
Whether someone wants to sell a real estate, rent or buy a piece of space he has to go through a real estate broker. The broker has to ensure that the entire sales cycle happens as smoothly as possible. There are many rules and regulations that the brokers need to follow and these are bound to change constantly. That means every sales cycle is dynamic and sales process keeps changing frequently. Therefore, for a reputed real estate agency to keep abreast of their competitors they have to continuously update themselves regarding the rules and regulations.
Challenges Faced By The Real Estate Industry
There are many challenges the real estate industry has to face to get a lead, manage the sales process and also to manage a customer relationship management. Here we look at a few important ones.
Multiple and isolated databases- Even today many of the real estate agencies create and store their database in spreadsheets or in their email's inbox. This makes sharing impossible and at times results in redundancy of information. This in the long run can lead to inaccurate information and administrative overhead. What you need to be aware of is relationship data is crucial and it goes beyond entering name and address information.
No access to CRM data- Since the data is not stored centrally, your team will not only possess duplicate data, they may not be able to locate the data at a crucial moment. They may have to come back to the office to store as well as retrieve data. This is an utter waste of client as well as the representative's time.
Difficult to make a revenue forecast- Sales pipeline is one of the key elements of the revenue forecast. If your business does not have an automated CRM system, revenue forecasting and re-forecasting is going to be a cumbersome process.
Younger sales force and younger consumers- The present generation is tech savvy and socially networked. Therefore, they wish to work with an organization that is willing to implement and integrate latest automated tools that will enhance their performance. Similarly, a customer would also wish to connect with you on the social platform.
Non-standard business processes- Every lease or transaction in real estate industry is unique. Therefore, the sales process associated with each transaction is different. If everything is done manually, there is a possibility of inaccuracy and administrative overhead.
How Implementing An Online CRM System Can Be Useful
Centralized repository of tenant, investor and broker contact details
When you have all the contacts in a central location, it not only becomes easier to access the data but it can be easily categorized and segmented. This is the primary advantage of using a reputed online CRM system. Once a broking executive meets client he can enter the details of the communication he had with the client on the move. Later this comprehensive data can be integrated with email system as well any mobile device.
Lead generation can be automated
The marketing team can work in tandem with the sales team to create as well as manage targeted marketing campaigns. When CRM is automated, the marketing team can pass on the qualified leads to the sales team to close the deal.
Enables mobility
By profession the real estate executives are mostly on the field. If you integrate a CRM solution that is compatible with mobile devices, it will enhance the productivity of those who are on the move. They will be able to enter the required information as well as access the required data while on the field.
Centralized pipeline reporting
When you have a centralized sales pipeline, it comes easier for the stakeholders to access as well as analyze the business prospects. Also, by sharing information cross-selling as well as up-selling becomes easier for all the sales representatives of your organization. Enables real time revenue forecasting.
Seamless integration of back office systems data with the CRM system
All reputed CRM software are designed to integrate the backend data and have easy to use customized user interface. A CRM system can be also integrated with the organization's email system. This will make it easier for the personnel handling a particular account to send email to his clients, also store the client communication data.
When you are using a CRM system, the clients can be reminded of when their lease is going to expire, whether they want to extent their lease and so on. Similarly, you can also send the lease approvals to the owners easily through emails. The entire process of customer relationship management becomes easy as you have evidence of approval, adherence to latest real estate policies and other regulatory compliance. Implementing CRM ensure the standardization, consistency and efficiency of the entire business process.
If you need mobile crm, you can check out below image
Related posts: