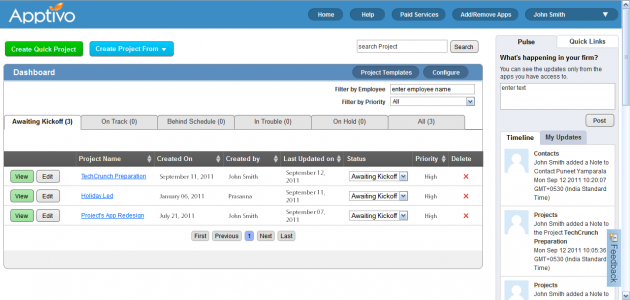 As your business grows, whether small or medium, it becomes essential that you introduce latest technologies such as management tools on the cloud to enhance its growth. If you want to sustain the competition, you must evolve with the times and have the right project management tool, which will simplify your workload. Integrating the right kind of management software will not only reduce the workload, but also help you organize and streamline all the processes. When you implement a Project Management (PM) software in your organization, you will notice the productivity increase many fold. With services like Software-as-a-Service provider (SaaS), making things easier, it would be wise to invest in a good online project management software. However, before investing in a PM software you need to be sure that it is the right one for your organization and that you are dealing with a genuine vendor.
Want a FREE Project Management tool? Check out Apptivo's Project Management
Tips to choose a Right Project Management Tool
Though the success of your business and project ultimately depends on your staff, their potential can be tapped to the maximum, and the workload can be reduced drastically by choosing the right type of management software. Here are a few tips to keep in mind before buying any PM software.
● Ask these Questions – Make a list of tasks that you want the PM software to perform. Identify the requirements of your business on the basis of –
(a) Current size and the future expansion of your small business.
(b) Whether you want to go for SaaS model or you want to implement it on your local server.
(c) Your budget.
In brief, you should look at every aspect of your work and all departments where you can implement the PM software.
● Look out for Crucial Features – Some of the features that you need to see in a PM tool include assigning privileges to people specific tasks, file sharing, time tracking, organization and automatic updation of projects, document management, e-mail and invoicing facility.
● Choose the PM tool from a vendor who provides trial period – Most of the vendors provide 15 to 30 days of trial period. Take advantage of this period and clarify your doubts with the service provider before finalizing on the product. Also talk to him about the data security and the backup of your data.
● Choose a user-friendly tool – The best option is to buy a software that is easy to work with and can be introduced to your staff with no hassles. Before investing on the PM tool, test whether you can perform a few basic tasks with ease. They are –
(a) Creating task lists and setting milestones.
(b) Check out the functionality of the calendar and create new events
(c) Delegating tasks, creating due dates and closing tasks
(d) Test for other functionality of the tool depending on the type of project your business handles.
● Report Generation - Another important feature that you need to look out in a project management tool is the report creation. The report will be generated on the basis of time sheets, milestone achievement, pending achievement, how much of work each team member has  completed, overdue task and the task completed.
● Flexibility of the Vendor - Buy your PM tool from a vendor who is willing to customize the software as per your requirements, update the software as and when required and also provide technical support in case of glitches in the future. Keep in mind the future of your business when investing in a management tool.
Leveraging the right project management tool will propel your business to greater heights, and stay competitive in the era of innovation and jet set growth.
No related posts.