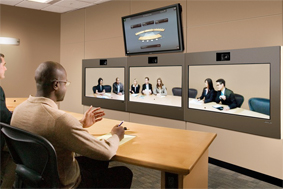 It wasn't that long ago managers would spend half their week trying to get everyone to a location for a weekly staff meeting, or a monthly sales meeting. Technology is changing how meetings happen. No longer do employees have to get on a plane and travel half way around the world for a meeting. The virtual meeting offers convenience for employees and significant cost saving for the business.
What is a Virtual Meeting?
Another name for a virtual meeting is a net meeting or an online meeting. It occurs when a group of employees located in many locations conduct a live meeting from their computer using the internet. These meetings can be e-learning classes, online training, regular staff meetings, or any other type of meeting your business needs. All that is needed is the hardware, software, screen sharing, and the willingness of your employees.
Free Time Tracking Software at your fingertips.
Each participant will use their own computer and then all the computers are connected through the internet using remote desktop software. There are three ways to conduct a virtual meeting:
Using a hosting service
Using meeting software
Using a webinar
Virtual meetings are becoming more popular because of all the features they offer. Voiceover Internet Protocol or VOIP which is used for live video, live chat, or streaming screens is the most innovative of all the features and one of the reasons for the popularity of virtual meetings.
Why Choose Virtual Meetings?
Virtual meetings are extremely cost effective and during times when companies are trying to streamline. It also offers businesses to expand where their horizons when seeking employees because with the virtual meeting place employees can be located all over the country and come together in a virtual meeting place.
Travel costs and becoming a thing of the past saving businesses significant amounts of money not just in the cost of traveling but also in productivity with the time wasted while traveling. Working from home is become common practice. It saves employers huge amounts of money in office space and it's now easy to hold virtual meetings
Today businesses face fierce competition. Those that will survive, grow, and prosper will take advantage of the technology that is available. The time is now to learn more about virtual meetings and how they can help your company today and into the future, because with virtual meetings you open up possibilities you never dreamed of.
Related posts: