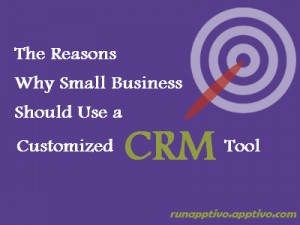 Small businesses are being forced to re-evaluate the way they handle their customers because the ultimate goal of all businesses, apart from profit-making, irrespective of their sizes is the relationship optimization. And the key to achieving this goal is being proactive. Today's businesses assess consumer preferences using social media tools as well as other related content. Once an entrepreneur decides to implement CRM, he needs to know that it becomes an integral part of his business. Therefore, he needs to consult his team regarding what features to be included. He should also be aware that a CRM tool that suits one business need not befit another business. Therefore, a small business owner should ideally go for a customized CRM product that suits his/her business. Probably, a minimum viable CRM product that would enhance the Return on Investment (ROI) by meeting all the necessary requirements of a particular small business. Here are a few pointers why small businesses should get a customized CRM product instead of buying off-the-shelf ones.
Ease of integration and simplicity of use- One of the reasons for implementing CRM is to make worker easier. If employees are finding it difficult to use the application, they are going to refrain from using it. A business needs a simple CRM system that can be integrated with already existing software and that can be used on a daily basis.
Remote access CRM system- An employee should be able to access the CRM system from anywhere, at customer sites, trade shows as well as partner's premises. He should be able to enter and modify the data from any location and at any time. Therefore, ensure that your customized CRM software is not a desktop solution but can be accessed from anywhere.
Mobile access- People do business while on the go. Therefore, CRM system should be accessible via any handheld devices. This is important especially for those companies that are into sales. The sales personnel should be able to access data such as contact information and other data regarding the customers with ease. Mobile access should be integrated to optimize the process of the customer relationship.
Multi-channel support- Customer support should be not only over the telephone. There should be another channel of support, i.e. instant online chat. A good customized CRM system should have one.
Campaign management functionality and analytics- Remember that CRM system is not about collecting and storing data. It should provide the decision-maker with decision-making analytics. The CRM solutions should allow the user to target consumer groups, select campaigns, create strategies as well as measure results across online and off-line channels. The user should be able to use measured results for the planning of the future campaigns. A customized CRM system allows testing, deployment, and measurement.
Lead generation and follow-up tracking- A customized CRM tool would be strong in lead generation as well as in follow-up tracking. It should be automated to send reminders to the sales personnel to make a follow-up and close a sale. Else the business will end up losing a lot of opportunities.
A small business owner should never be dazzled by the latest features in a CRM system. What he has to look for is how his business is going to be benefited by the latest features. Approach a reputed software development firm with all the business requirements to develop, integrate and implement a customized CRM system. If we have missed out on any of the reasons for implementing customized CRM, please give your reasons in our comments section.
Related posts: