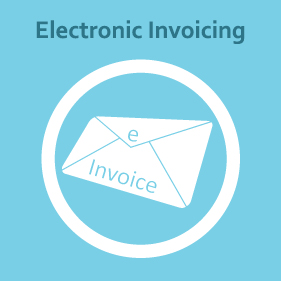 Electronic invoicing is fast replacing the paper-based invoices. As a small business owner, you should use an invoicing software that allows you to create a simple yet elegant invoice. An invoice should contain all the necessary information of your company as well as the quantity purchased and the rate per quantity on the invoice. Apart from that, it should also include the tax and other important parameters. Let's have a look at what your client sees when you send him your invoice.
Logo- Ensure that invoice design allows you to upload your company's logo. This is important. Usually, the logo is on the left top corner.
Address- The trading address as well as the phone numbers. The address should be complete.
System generated invoice number- Ensure that a unique and sequential invoice number is generated by the system. You can also sequence the number by client or project.
Due date of the payment- This is the way of telling your client the tentative date of payment. You would have discussed the terms and conditions of your payment at the onset of the work.
Quantity and details- The amount of work done, i.e. the quantity and the relevant details should be crystal clear. The amount you have charged per work should also be mentioned and finally the subtotal and the total amount due.
Payment details- Ensure to mention the payment reference number. Here you can always add a friendly note. For instance, Thank you for choosing me. If you have any questions regarding the invoice let me. You can also give the payment instructions if you there are any.
Give your bank details- Giving your bank details makes its super-simple for your client to pay you. If you have the premium package the client can make transfers to your PayPal account.
The template you use should be simple, clear and be attractive. It should contain white spaces for easy readability.

What To Look For In An Online Invoice Template
Once you have decided that your small business needs to have an electronic invoicing platform, there are many firms that offer the basic package free of cost, there are a few things that you need to check before zeroing in on the service provider.
Will it suit my business type- In a small business set up, it would be the owner himself who would be taking care of the accounts and invoicing the customers most of the time. Therefore, choose an invoicing platform that serves your type of business better in the present phase and that can adapt to the business size as well as needs as your business grows.
Customizable invoices- One size does not fit all. Similarly, one invoice format cannot be send to all clients. Therefore, check whether the invoicing software allows you to tweak the template to suit your business needs.
Check out whether there are other add-on services- Though initially, you want to use the basic invoicing software, later as your business grows you would like to go for the premium package. If you are planning to upgrade your package, check out whether, the service provider has provision for other features such as different modes of accepting payments such as PayPal,Authorize.net or Zipmark, financial analysis tools, custom PDF invoice Templates and more.
Seamless integration with the existing system- This is another important point that needs to be considered. You need to find out whether, the e-invoicing platform that you are planning to implement integrates well without any hassles with your current accounting software and other applications.
Will you be able to send a high volume of invoices in future- As your business grows, it means that there is an increase in your client database. This means you would have to send more invoices at the end of each month. You need to check whether there is an upper limit for sending invoices or will you be charged for extra usage of the software.
Support offered by the software firm- Whether you are using the basic free package or a premium package, the firm has to offer support. That is, they should be able to answer and clarify your queries. If there is no support system, then it's wise to not pick up that invoice.
The above mentioned points should help you decide before choosing an invoice for your startup.
Related posts: