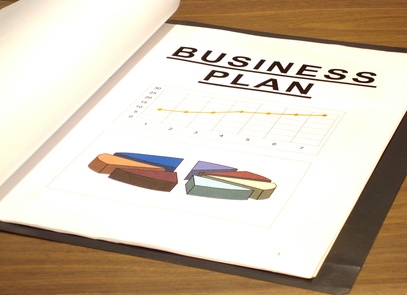 A business plan is like a road map. Without it, you may not have the ability to achieve the dreams and goals you have for your small business. If you are just thinking about starting your own business, you may not realize the benefit of a business plan just yet. In other cases, you may have opened your business's doors and are now looking for direction. In both of these cases, a business plan can be essential.
What Is It?
A business plan is never a finished document. Rather, it is a work in progress you will continue to add to and change as time goes on. As your business grows, it will evolve in terms of what it offers and what its underlying goals are. This document works with you over that period of time. It outlines the structure of the business. It details the management and financials of the business. It also provides a concise, but thorough plan on how to run the business. It should show anyone who reads it what your business offers that no one else does. Each section of the plan should detail information in as specific a form as possible.
Executive Summary
One of the aspects of the business plan is the executive summary. This is the first portion of the plan and is it perhaps the most valuable. You will need to complete the rest of the document before you write the summary since it should sum up what is included in the plan. This section outlines the business's goals. It states where the business is now and where it will be in the future. If you are using this business plan to secure finances, it is best to ensure this section clearly grabs the attention of the reader.
Market Analysis
The next section of the business plan is the market analysis. It focuses on the local industry your business is a part of. Your knowledge of that industry is critical. In a formal business plan, the plan writer will conduct a formal marketing analysis. This analysis shows who your competition is and what the competition is offering. The analysis helps to show that your business has a place within this market. In the market analysis section of your business plan, outline the research results. It should also include:
A description of your industry
A description of the outlook of that industry in your community
Detailed explanation of who the target market is
Market test results, if available
Lead times, if available
An overall evaluation of those in the community who are your business's competition
Company Description
In this smaller section of your business plan, outline the company without too much detail. Show what your business offers and provides at a higher level rather than a detailed explanation of each aspect.
Organization and Management of Business
In most cases, lenders and others reading a business plan want to know who is behind the company. The management and organization of your business shows who is in charge and why that person is in charge of the business. It shows the organizational structure of the company from the ownership to those working in the front lines.
Marketing Management and Sales Management
Your marketing plan will make or break your company. It should be a part of your business plan. This section should define whom you are marketing to and how you plan to do so. It should include:
How you plan to enter the market
How you plan to grow the business in the market
The channels of distribution in your market
How you will communicate your business's presence (how will customers find you)
Service or Product Description
In this section of the business plan, outline what you are selling. Describe the product in detail. Pay special attention to the things that make your product or service different than others already in the marketplace. Outline the benefits your current customers have but also what your product can offer to other potential customers. This section should include information on the following:
A detailed description of the product you sell, not from your information but from the customer's perspective.
Describe the product's life cycle. Be sure to state where your product is in that life cycle as this helps to outline who will buy that product.
Detail any proprietary information here, such as any patent or trade secret you have. Detail any information about the product's copyright standing, too. Be sure to include a nondisclosure clause in this section to protect your private information or trade secrets.
Funding Request
In this section of your business plan, describe any funding need you have. While this part of the business plan is not necessary if you do not plan to use the business plan to get a loan or other financing, do make this a focal point if you do need funding. You need to state what your funding need is. Outline what you will use the funds to achieve.  Are the funds to start a business or to expand it, for example.
Financials
In this section of your business plan, outline how you will spend your money. How much will go towards marketing compared to employees, for example? Use both historical and projected information in this section of the business plan. You want to ensure that you have clear data showing where you obtained this information from, too.
Overall, a business plan is an excellent way to lay out your business in a piece of paper. It helps to structure how the business will operate. Many use these to obtain loans or to encourage partners to sign on, but they are also a good option to ensure all partners in the business are working towards the same goals. When it comes to starting a business, it is critical to have detailed information like this to lead you. It can also help you to achieve the goals you have for expansion or downsizing.
For more business plan tips, templates and guidance, check out SCORE www.score.org/template_gallery.html.
Related posts: