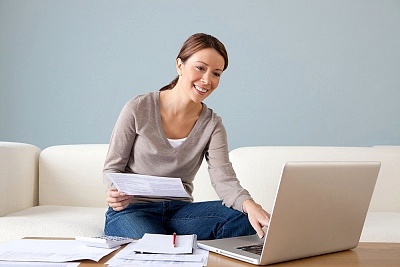 Online apps offer some excellent tools for a variety of tasks from money management to email. Freelancers can really benefit from online invoicing and there are tons of choices for you. Let's look at a few of those apps.
1) Apptivo Invoicing – Free
Apptivo is by far one of the best online invoicing packages in the market. Apptivo's invoicing is designed to help small business and freelancers invoice their clients for free. Most freelancers are working with clients from around the world and therefore need the capability to send invoices in a number of currencies. Apptivo allows you to do this using Paypal. Apptivo will take you from start to finish, with ease and sophistication that's hard to find in other online invoicing apps. Just four simple steps and you'll be creating invoices.
Create an Account in Apptivo.
Once you follow the above instructions, your Paypal account which is created through Apptivo has the multiple currencies feature of Paypal automatically enabled at no additional cost to you.
Now you can send out electronic invoices to your clients and they can pay in any currency they wish.
2) Freshbooks
Freshbooks offers ticketing, work timesheets, document branding, support, and allowing you to send invoices via snail mail.
3) Blinksale
Blinksale allows you to design your own interface with CSS. It is well integrated with Basecamp so getting your client list can be done efficiently. However, you will need an understanding of both Basecamp and CSS.
4) Simple Invoices
The name says it all. Here's an online invoice program that's easy to use and integrates with Basecamp, allowing you to efficiently get your client lists.
5) The Invoice Machine
The Invoice Machine is an online invoicing program with a cleaver approach. It's simple to use and creates professional looking invoices in no time at all. It is ideal for freelancers who are looking for a simple way to manage and send invoices.
Want to use a FREE Online Invoicing Tool? Check out Apptivo's Online Invoicing Software
When choosing an online invoicing app, you should consider:
Features
Pricing
Usability
Customer support
Here are some resources you could check out
smallbiztrends.com/2010/01/30-online-invoicing-apps-for-small-businesses.html – 50 Online Invoicing Apps for small business.
These online invoicing apps are great for freelancers.
What are you using for your invoicing needs?
Related posts: