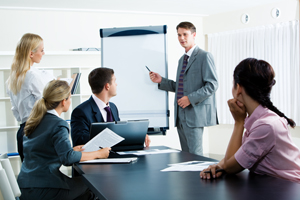 To perform tasks on time, a lot of planning is needed. You have to take several factors into consideration to deliver the expected outcomes. Thanks to project management(free project software), one can perform tasks in a manner that all factors are taken as inputs and every small task can be planned, down to the smallest detail.
Project management software helps implement management processes. You can organize your business better, collaborate more effectively, plan and track projects comprehensively. There is a surfeit of project management software available on the internet. Apptivo's Project Management Tool helps manage your online project management team efficiently and effectively.
Online Project Management Gives Your Project a New Dimension
It is a fact that project management software is only as good as the person who uses it. The software can take your business into other leagues. It has functions that enable project managers to plan, schedule, and monitor project activities. The software can also be used to motivate project team members and clients. Project management software provides different views of data to different team members; therefore data is relevant and timely. Managing and motivating team members may be a complex skill in itself. It is even more difficult when everyone works in remote locations. Online project management solves this issue.
Benefits of Online Project Management
The biggest assets that modern day businesses have are capable people and excellent customer relations. Online project management makes this possible by helping teams develop in the best manner possible. Thanks to it, you are able to achieve goals effectively and efficiently.
One can complete an entire project in an organized way. Data storage, communication, distribution, scheduling, arrangements, and budget control can all be managed through online project management software's. Communication between the entire team can open up; resolving any issues that team members may have. Constant updates on the progress of the project are imperative for things to run smoothly.
Employees can use the project management software at any location, as long as there is internet connection. Deadlines can be set in order to submit an assigned task. Through online project management, project managers are constantly updated on the recent activities of the company. This will help monitor the team, in order to make sure they are working regularly and efficiently. Users can also provide feedback, informing management what changes need to be made depending on wants and problems they may have encountered.
Want a FREE Project Management tool? Check out Apptivo's Project Management
So are you currently using your project management team efficiently? What steps have you taken to help ensure this?
No related posts.