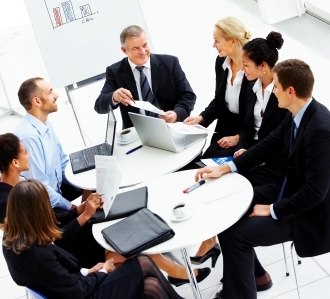 A couple of years back, I was working as a project manager for a soft skills company. I had a team who would develop the training materials as per the training requirements and a group of trainers. Once the marketing team gave me the client details and requirements, it was my responsibility to arrange for the meeting with the client, take training needs analysis, come up with a training plan and finally, the budgeting. Therefore, I am the link between the client, the content developers and the trainers. It is my responsibility to ensure that quality training as per the level of the trainees is delivered to the client's satisfaction. I would also like to mention there was no free project management software such as Apptivo. Everything was done manually, there was a lot of paper work to be done because there were no document management tools and how I used to hate paper work. My company's accounts department had a tough time because there were many clients and they had to keep track of billing and invoicing each client. Now that times have changed, thanks to online billing and invoicing, you can send invoices to multiple clients and also keep track of the dues and late payments. It is true that there are many tools to support a project manager. However, he has to possess certain skill sets to complete his tasks, lead his team and also complete the project on time. Here, we look at the various skills that are required to be a successful project manager.
Want to use a FREE Online Invoicing Tool? Check out Apptivo's Online Invoicing Software
Analytical Skills – Whether you are a software project manager or a non-IT project manager, you should possess the ability to foresee the challenges a project you undertake may encounter. Never underestimate the knock-on changes. You should be able to analyze and manage these changes. Remember, project management is a complex responsibility; so never overlook even the minor changes that are made to the specification after the onset of the project. Online project management tools are available to help you keep track of projects and adjust the timelines.
Collaborative Performance – One of the skills of a good project manager is team management. You should be approachable. Remember, though the final decision lies with you, you should also always hear the ideas and inputs of the team. You should talk to them about achieving the goals; done through collective performance. This will help build a sense of responsibility and self-esteem among the various team members.
Budgeting – It is a fact there would be an accounts team to take care of the expenses of a project. However, it is necessary that an ideal project manager should possess good budgeting skills. He should know how to prepare a budget and monitor it from time to time as the project progresses. Though initially he can get the help of the finance team, latter it would be wise if he learned the basics of budgeting.
Time Management – The success of the project manager depends on his time management capabilities. Before delegating tasks to your team, you should be aware what it is you are spending time on and how relevant and important these tasks are of. That is, you should possess the skill to analyze the time requirements of the each task. At times, clients would ask for timesheets to keep track of the time you are spending on the project.
Ultimately, project managers require experience and practice to leverage their project management skills to maximum advantage.
No related posts.