Company Overview
Intellect Faces Consulting is a rapidly growing IT consulting firm specializing in the design and implementation of high end digital networks.  Providing professional IT Services to small and medium-sized businesses, they are dedicated to bringing customers the highest quality of service with the latest in hi-tech solutions.
Problem
The increase in number of active projects, due to recent expansion, has been putting a strain on company resources.  The lack of a consistent process for communication between management, sales representatives, and technicians has led to scheduling conflicts and missed assignments. This has led to an unacceptable amount of missed deadlines.
Solution
After researching several solutions, Intellect Faces decided to utilize the Apptivo ERP and CRM systems to improve sales, project management and customer services processes.  Since implementation the scheduling conflicts caused by poor communication have been greatly reduced, which has enabled the company to better meet the demands of a growing workload.
From the beginning of the sales process Apptivo begins to show its value.  Managers can enter a sales lead into the Leads App and assign it to a sales representative, who is then automatically notified of the assignment.  The sales rep is able to record all communication with the potential client, schedule follow-up calls/meetings, record notes, save documents, etc.  Because everything is tracked within the same lead, any employee that works on it will have accurate and up-to-date information.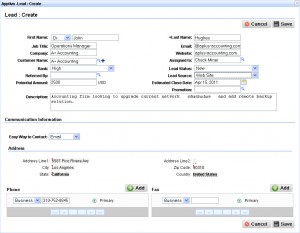 Once a deal has been closed, the lead is converted into a new customer account.  A project is created to track all necessary "activities" (tasks, appointments, to do list, call log) required to complete the project.   Since the entire process occurs on the same system, it helps to reduce redundant work and creates a sense of accountability for all employees involved.
An Intellect Faces Project Manager had this to say:
"The biggest change I have noticed since we started using Apptivo is my stress levels.  I feel so much less stressed out than I used to.  We still have just as much work to get done, maybe more, but I feel like I'm in control of the work instead of the other way around.  With a few clicks of my mouse I'm able to monitor exactly what is happening on each of my projects and can immediately address any problems I see, before they turn into serious issues. It makes my job easier, that's for sure."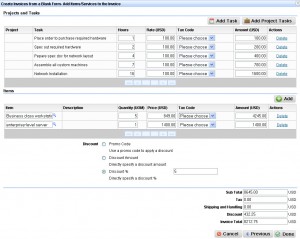 Using the work time sheets App, managers can easily monitor employees to see which activities they completed and how many hours they spent to complete them.  This gives the manager a simple way to monitor each employee to make sure that they are completing all the work assigned to them in a timely manner.
An Intellect Faces manager said this:
"My job has become much easier since we started using Apptivo.  I am able to easily monitor what exactly each employee is doing.  When projects are delayed, I am able to go back and review the timesheets to help me determine what caused the problem.  Juggling multiple projects at once can make it tough to stay organized and on top of everyone.  There is no way I'm going to remember every task that I have assigned for each of my team members, and now I no longer have to."
After completion of a project, the Invoice App allows Intellect Faces to quickly and accurately generate an invoice for the client.  The seamless integration between the various Apptivo Apps allows completed tasks, including the billable hours and hourly rate, to be easily added to the invoice. Items purchased by the customer can also be added, with any applicable discounts or promotions. This streamlined invoice process has saved Intellect Faces time track on redundant paperwork and minimized human error. Once the invoice is completed it can be emailed directly to the customer or printed out for hand delivery as needed.
Conclusion
Since converting to the Apptivo system, Intellect Faces  has seen an increase in both efficiency and overall company output.  In addition, fewer deadlines have been missed which has led to a clear increase in customer satisfaction.  With the help of Apptivo, Intellect Faces will be able to continue offering a superior level of service and customer satisfaction to their growing customer base.
Related posts: