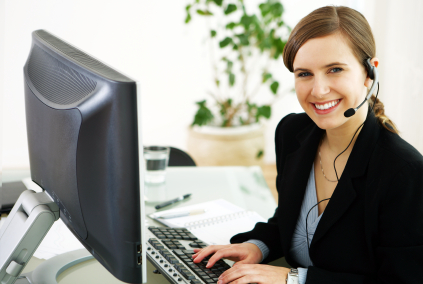 If you are like so many entrepreneurs, in the beginning you took almost every job that came along. But sooner or later you'll have to make a decision about what type of online business you want to run. If you have already developed a fine reputation for customer service and excellent quality of work, then the decision to fine tune your services will be that much easier. If you've already been doing the A to Z's of running an office why not carve out your own niche as a virtual assistant.
Virtual assistants must be smart, organized, be able to work under pressure, and of course they must be good at the tasks they undertake. There are virtual assistants specific to an industry and then there are virtual assistants that are virtual assistants that do general work for a number of industries. It's up to you how you want to set up your business.
In the earliest stages of specializing in the niche virtual assistant market you may be worried that your business is dropping off suddenly. Hang in there, it will rebound with vengeance. If you are tightening up your niche to focus on just one industry, it might take a little bit longer, but it will happen.
Not sure how to choose an industry to specialize in? Grab a pen, some paper, and an hour of your time and start answering these questions.
What do you like to do? What are your interests and your hobbies?

What are your passions?

What passions have you not taken the time to further explore and is there a market there waiting to be grabbed?

Which of my clients bring me the most happiness and why?

Which industries are these clients in?

What does your perfect client look like?

Which services that you currently do you love?

Which services that you currently offer are most lucrative?

If you could what would you change about your current business and clientele?
Manage an unlimited number of contacts for FREE using Apptivo's Customers App
If you take the time to honestly answer these questions and then also take the time to evaluate the answers you gave you will likely find that niche you were uncertain about staring you right in the face? These nine simple questions can tell you a great deal about which market you should focus on.
Here are some resources you could check out
www.us.deskdemon.com/pages/us/va/article/nicheva – As a Virtual Assistant (VA), you know about filling a niche because you are already doing it simply by being a VA.
www.virtuallin.com/…/learning-center-virtual-assistant-niche-services/ – More and more, the industry is evolving to include specialist or niche Virtual Assistant experts.
www.buzzle.com/…/work-from-home-business-finding-your-niche-as-a-virtual-assistant.html – A home business opportunity that teaches you necessary steps required to establish a Virtual Assistant business. It also outlines different options.
www.virtual-assistant-advice.com/virtual_assistant_jobs_from_home.html – Here we go with a list of virtual assistant jobs from home. This list is really never exhaustive as virtual assistants can specialize in a myriad of niches.
www.vastartup.com/ – Finally, you'll quickly learn that developing a niche in the Virtual Assistant industry is your key to a successful career. Developing a niche is makes you.
When you have a niche virtual assistant market you will become known as the expert in that area or field and you will watch your business grow before your very eyes.
No related posts.