Apptivo's Social Biz Page is here to replace the hassle of creating a webpage for your small business. Send customers and clients directly to this site to learn more about your company. Here are the steps to creating your Free Social Biz Page.
Free Document Sharing made easy through Apptivo.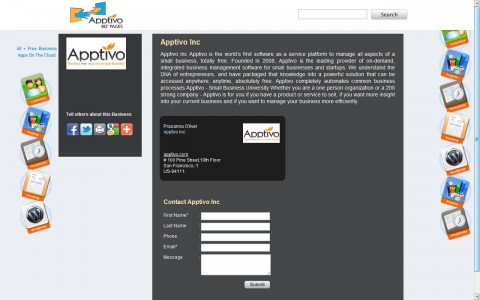 Log in to Apptivo and go to the Social Biz Page App.

Fill out your Business Information in Step 1

Design your Profile with Step 2 by choosing a background or upload an image. The Instructions for choosing a background image are here runapptivo.apptivo.com/find-the-right-background-image-for-your-biz-page-3473.html

Promote your Social Biz Page on Twitter or Facebook

Click "View" to see your Social Biz Page
In the Biz Pages App, you will be able to track the number of listing displays, number of times your profile was displayed in search results or alphabet search results; the profile views, number of times somebody viewed your profile; and the number of sales leads you have received through your Biz Page. Your business profile URL is displayed as well.
Now you know how to create a page, so get started with your Social Biz Page now at www.apptivo.com.
Related posts: