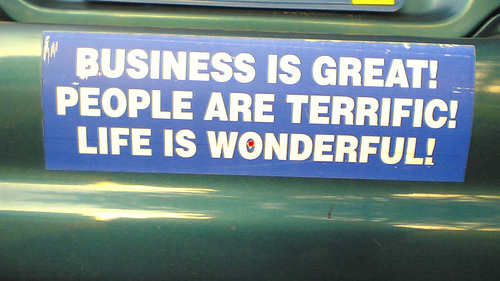 "Goodwill is the one and only asset that competition cannot undersell or destroy." – Marshall Field (American Businessman, 1834- 1906)
The economy is slowly coming out of the slump and every business, irrespective of its size, experienced a downturn. One of the reasons many businesses survived the economic uncertainty is because of their longstanding goodwill. So what is "Goodwill" all about? It is an intangible asset for any business because it exhibits the value of the business and what it stands for; such as good employees, client relationships, brand name and its community work.
Goodwill is for Business what Reputation is for a Person
You can say that goodwill is an emotion that exists within us and when you create an emotional bond with the people, you deal with; you are rewarded with opportunity, business networks, endorsements and trust. Here is a list of points to support the importance of business goodwill.
Building goodwill with customers. Goodwill is important to increase your customer base but also retain your old clients. This happens through word-of-mouth publicity and recommendations. Many customers return to you if you've provided them good customer service and have established a good relationship with them.
Investors are attracted to businesses that have goodwill. The goodwill of your firm is equivalent to solid cash. It will help you obtain loans from banks with ease knowing that you are a valued customer.
New avenues open up; opportunities are created through business networks if you have longstanding business goodwill.
Another advantage of goodwill is that, even if you make a blunder, your customers are willing to forgive you when you apologize. This is because of the trust they have in your business from previous experiences.
When you want to sell your business at any point in time, your reputation and the goodwill of your business will attract many potential buyers. You will be able to sell your business for a good amount.

How to Build Business Goodwill
Goodwill is something that cannot be bought but has to be earned; there is no way to earn it overnight. It will take considerable time and effort to develop goodwill in for a business. We have listed some factors that aids in developing goodwill in business.
Maintain the quality of your products or services – Remember that the first impression is the best impression. If your business provides quality products/services right from the beginning, you are taking the steps towards developing goodwill.
Rapport building and integrity – People will find dealing with your business easier when you take pleasure in servicing them and when you provide business integrity.
Brand commitment -Your business should be one step ahead of your competitors. A business under the limelight for the right reasons will attract goodwill for itself.
Service satisfaction – A customer is likely to return to you and also recommend your services/products if he is happy with his experience.
Community service not only helps in developing business good will but also leads to small business longevity - As your business grows, you should focus on investing in community goodwill. Some suggestions could be, making a small donation to community functions or by giving a helping hand to those start-ups of a different industry that are struggling. You can also promote amateur artisans and musicians by holding exhibitions or concerts for them. Local residents would be willing to buy tickets that are fairly priced. You should include other small businesses to help with local events.  It will pay-off with long-term sales growth and business referrals.
Goodwill is all about the nature of the business and the integrity and ethics with which you conduct your business. The understanding between your customers and you, your employees and you also contribute to the business goodwill. Consider goodwill as an honor that is impossible to imitate.
Flickr image by jm3
Related posts: