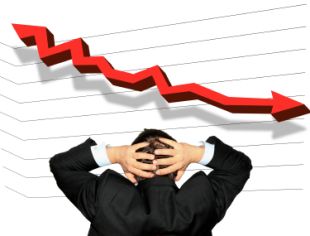 Small and medium enterprises (SMEs) are the backbone of any modern economy. So are the trade cycles. During the recent recession, Asian economies came out with minor bruises here and there, whereas the European economies and those of the Americas had a tough time. In general, during the recent economic downturn, business sectors around the globe panicked and the world watched with bated breath. However, the world economies find innovative ways to recover during each downturn. Here we look at how small to medium enterprises survived recession and also the steps they have undertaken post recession to propel their business growth.
Want to use a FREE Online Invoicing Tool? Check out Apptivo's Online Invoicing Software
What SMEs did to Survive Recession?
Changes in SME Owner's Behavior – During the recession, many of the SME owners not only put in longer business hours, but also took to cutting their and their employee's salary by half. Those business ventures, which had good credit history with their local banks, took additional loans. Many business owners re-mortgaged their immovable properties. Some even went to the extent of seeking personal loans at high rate of interest. The statistical report released by Canadian Federation of Independent Business say that many SME owners also cancelled their personal holidays. There were a few business owners who outsourced their work to countries where they could get quality work done at inexpensive rates.
Changes in Marketing Strategies – Remember that there is a great change in the market cycles during recession. Many small and medium businesses changed their marketing strategies and started tapping the local community. Another trend that was seen is that traditional forms of advertising (radio, print media, etc) gave way to social media marketing and advertising. That is during this period the power of the Internet/online marketing was tapped to the maximum. Social media tools such as Facebook and Twitter played a vital role in online marketing.
Changes in Employment – During the recent recession, there was a rise in the unemployment rate. The reason is that SME owners reduced their staff and they were not ready to induct any freshers into their firms. A recent report published by OfficeCavalry.com reveals that many small to medium enterprises in UK are seeking the skills of freelancers and other contract workers to recover from the recession. According to Andy Turner, founder of OfficeCavalry.com employing skilled freelancers (local and remote) from across the globe is the latest trend adopted by many SME owners. The reason is that it is more cost effective and scalable. This trend is adopted not only in the UK, but also by other world economies.
Plans to Survive any Recession
Once you get feelers about the possibility of a recession; instead of panicking you need to be proactive. Here are a few things, you, as a SME owner can do to survive any recession.
Check your Finances – The first and foremost thing that you need to do is to keep a check on your accounts regularly. Remember to collect your outstanding dues and clear your debts as much as possible. A good credit rating will help you to tide over your bad times in the form of bank loans.
Cost Cutting – During good times, we tend to hire new hands on payroll. Instead, try hiring people on short-term contracts. Try the gimmicks of outsourcing and renegotiating with your suppliers. Avoid traveling for business meetings if possible. Make use of modern technology and try conducting tele or video conferencing. Recycling of stationeries or opting for online invoicing, document management and data storage are also ideal ways to cut costs.
Maximize your Productivity - Understand the market before you launch your new products or services. Find out the requirements of the customers before you launch anything. Also, find innovative ways to retain your existing customers. You should also be knowledgeable about your competitors and their marketing strategies. Cutting back on the product prices alone will not help. Go an extra mile if you have to, but do not compromise on your quality. This will help you create a niche for your business.
Use the 80/20 rule – As a rule of thumb, 80 percent of the SME business comes from 20 percent of the existing customers. Try to concentrate on the creamy 20 percent and cut down on the remaining 80 percent of the customers who account for only 20 percent of the business.
By synergizing your individual and the team's collective imagination and brainstorming, smart ways to circumvent the tricky problem of recession can be fashioned.
No related posts.