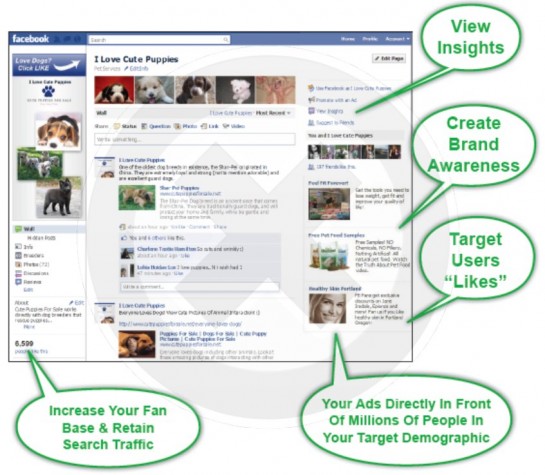 Facebook is one of the most popular social media platforms where millions of people spend hours connecting with their friends and family. With the growth of smartphones, many people can access Facebook through their mobile devices. Facebook advertising is gaining fast popularity among small business owners because they can target ads to specific demographics, which helps increase the web traffic towards the site. We have put together the pros and cons of Facebook advertising for you.
Advantages of Advertising in Facebook
You can reach out to a global audience – In August 2011, there were more than 750 million active users from around the globe on Facebook. Advertising with Facebook gives small business owners a chance to showcase his products/services to a diverse audience in various geographical location, gender, income and age.
You can target your audience – Small business owners can have advertising campaigns targeted towards specific age groups, geographical location, status and gender. Owners can target their local consumers by advertising on Facebook. Local communities can reap the benefits of discounts on products or services and take advantage of reward programs offered to them.
Facebook advertising is cost-effective – You can open a business account with Facebook for free and implement your marketing and advertising. Facebook allows you to purchase ad space based on a pay per click or impression based fee structure. Therefore, you can plan you daily budget for advertising accordingly.
Make direct sales from the Facebook business page – Facebook is a friendly social media platform that people around the globe are using. Therefore, placing an ad here means your products are visible globally and easily accessible. To make things easier for the audience, you should set up a "product" tab, which makes it possible for customers to make a direct purchase through your Facebook business page.

Disadvantages of Advertising on Facebook
The fee structure for Pay Per Click (PPC) for niche market is high – There is a misconception that advertising costs for target marketing is low. Online marketers believe that PPC for niche areas is similar to the general pricing of demographic targeting. Therefore, many online businesses think if Facebook optimizes the fee structure for niche market, there can be good traffic to their site.
Conversion is easier said than done – Though many people may view your ads and click on them to enter your site, not many will go through with buying from your site. It is not easy to convince people to stay on your site so they can better understand your product.
Irrelevant ads- There are ads that may distract you from what you are trying to look at. Facebook is flooded with ads such as reward programs, humor sites and free giveaways. These make the other important ads look less relevant.
People spend more time on one page – Another disadvantage is that many viewers tend to spend more time on one page, than going through other pages. Facebook is generally considered to be an ideal way to connect with various people, for businesses who are paying to advertiser, it can be a loss of opportunity.
Even though every click cannot be converted to a sale and what you offer may not be relevant to what people are looking for, but Facebook has one of best online platforms for placing ads. It's a chance to grab the opportunity to be successful.
Now it is up to you decide whether Facebook advertising is right for you or not.
Related posts: