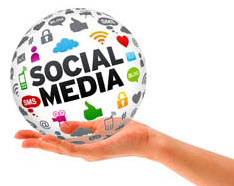 Today, words like Facebook and Twitter have become an integral and prominent part of life. They are nothing but part of social media, which has a long history and promising future. We look at social media's evolution and significance.
The Early Days
Man is a social animal who has always strived to communicate with other humans over long distances. The earliest social media tool was written letters. They were initially transported by horse or carriage, then later by automobiles, ships and airplanes. The invention of the telephone enabled people to communicate over vast distances without significant time lag. Introduction of the telegraph enabled one to convey information across the globe much faster than any mode of transport.
The Internet and Social Media
The introduction of personal computers followed by the Internet revolution has transformed the field of social media. Email enables people to communicate at anytime, from anyplace, provided that there is a reliable Internet connection in place. Thanks to software such as Skype, one can hold virtual conferences through audio and video chat with others around the globe.
Blogging is an extremely popular social media tool. Anyone can start a blog and invite others to read and comment on it. LinkedIn is a professional social networking site where job seekers can search for jobs. Businesses can post up job listings when there's a vacant position. One can search for past colleagues in the field of academics and work. Twitter has been dubbed the SMS of the Internet and rapidly acquiring new members.
This is the era of social media networking. One can connect with friends, acquaintances and potential clients and customers. Today Facebook and LinkedIn are used to garner business and attract talent. These sites are used for both personal and professional purposes. Sites like Picasa and Photobucket enable online photo sharing. YouTube enables one to post videos for others to view.
The invention of mobile phones meant that people could communicate from anywhere, at any time. Today, most people are able to afford smart phone device that gives them access to the web right from their phone. Telephone lines need not be installed. A global network of satellites means that mobile devices can be used even in remote or inaccessible locations.
The impact of social media on human life and relationships today is tremendous. Many individuals are addicted to it and life without it is difficult to imagine.
The Future of Social Media
The field of social media continues to grow and evolve in terms of technology and reach. The time is ripe for small business owners to leverage state-of-the-art social media tools for attaining their goals. Today, several small and big entities are working with the goal of introducing innovation in and development of the next big thing.
No related posts.