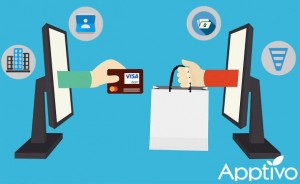 Customer relationship management is one of the keys to success of an enterprise, irrespective of its size. Though in the past, CRM was popularly used in the Business-to-Business, its slowly gaining importance in the Business-to-Customer space. To be more specific it's gaining significant importance in eCommerce business. One of the reasons for the significant shift in the CRM towards the B2C space is the tremendous competition among the various companies of similar kind of industry type of to offer superior experience to the customers.
In today's world, price of a product is no longer a competing factor. What matters is the memorable customer experience that includes the ability to find product with ease and the customer service offered by the company.
By implementing a good CRM system, a company can easily access the market data that will allow them to serve the customers better. CRM is all about conversing with the big data that is ever growing with the advance of digital marketing and social platforms. CRM gives a 360 degree view of the customers, shoppers and website browsers. The merchants should use this data to analyze the preferences and tastes of their customers of the various demography and create a strong strategy.
Let's have a look at how the integration of CRM to B2C and B2B in eCommerce space will help to propel the small and medium businesses to greater heights and also compete with the larger enterprises.
Reward for Loyalty-
Most retailers have some kind of loyalty programs in place. For them to have superior retention tracking of customers and offer them incentive the need to monitor the different ways they communicate with their customers. For doing so CRM is necessary.
Integration and Smooth Implementation-
All leading CRM systems can be integrated with third party software. Thus you can design your system to share data between accounting as well as banking records, suppliers, contractors and more. A correctly installed CRM will make seamless the logistics, product handling, payment tracking as well as refund processes. with several systems you can extract all data into customer relationship management and have the ability to have a single dashboard to control the workflow.
Gain control over important data -CRM empowers quick access to vital data related to all customers such as their address, delivery data, purchases, mode of payment, refunds. It's possible to record all the communication as well as interaction with customers in a very short span of time.
Centralized tracking and organized storage - CRM lets users search anything and everything and pinpoint all available data from a central location. The advantage of CRM is that it becomes highly simple to monitor customers even after the sales process. Now you can know if the customer is satisfied with the product or service. Complaints can be gathered and consolidated. Based on customer purchase history and data related to his/her likes and preferences you can offer products or services tailored to his/her liking.
Keeping the future in mind- CRM enable follow up reminders and have the ability to dispatch emails at scheduled intervals. The software enhances cross-selling as well as up selling hence boosting the ROI.
CRM systems are not static. They are constantly being redesigned and improved to effectively meet current and future business scenarios.
Related posts: