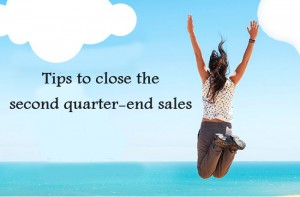 It's beginning of April, the second quarter is on. Sales managers along with their teams would be just chilling after a stressful closure of the first quarter-end sales. But it's time to review the performance of the first quarter so as to do better in the second quarter. Completing the end of a quarter sales quota successfully is the winning trait of the best sales personnel. March, June, September and December are the four quarters and to be a successful sales manager here a few pointers that have to be looked into.
Do away with any kind of distractions- A sales manager has to be laser focused on sales at the ends of each quarter. A successful trait of a sales manager is to make himself easily approachable as well as accessible. Prioritize the work and remove all non-sales related work, that are distractions to achieve your sales goals.
Motivate the team and keep them focused- A successful sales team is a dream of any sales manager. And this is possible only if he keeps the team motivated and focused on achieving their goals. Last couple of weeks of any quarter end is highly stressful, therefore help the sales team to deprioritize all non-sales related distractions and help at focusing on their goals.
Keep the sales pipeline replenished and prioritize effectively- Whether its end of the month or quarter, the sales personnel are likely to be under stress if they don't have a work plan. Stress is usually caused by not being able to close the deals of the previous month and opening the next month with a pipeline hangover of the previous month. The sales team should never stop the process of prospecting.
A sales person can show flexibility in closing the quarter-end deals as long as he does not move away from prospecting. Prioritize the deals effectively if you want to maximize your wins. Assess what is still in the pipeline and what can be closed now. Once you have closed the opportunities close to the finishing line then you can go back to the pipeline prospects and close it in before the next quarter end.
Clean up your pipeline- Every sales rep will have those big leads in their pipeline that they have been working on to close. If these leads are making not much progress it high time to remove it from the pipeline. Coming clean will open up new perspectives as well as better productive leads.
Be direct and honest with the prospects- A sales person can be direct and candid with his prospect. He should be pleasantly persistent and respectfully blunt with his prospect to know whether they will close the deal. This will help him to determine how far he has to go to close the deal and also weigh the worth of the prospect. This will give him an idea whether he should focus on the opportunities that are closer to the finishing line and deal with the others at some other time.
Implement the right CRM solution to help in forecasting- One of the mistakes that many sales managers spend time forecasting. Instead he should consider it as his responsibility to convince his senior manager to implement the right CRM. Then provide training and guidance to sales team to use this tool to make sales forecast projection.
How do you like to finish your quarter-end sales, in red or in black?
Proper preparation, being proactive, detailed planning, learning from past mistakes and positive attitude are imperative to be successful in the present. Remember you reap what you sow. So put in quality efforts and be rewarded by quality results.
Related posts: