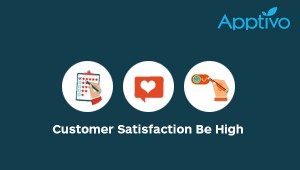 It's an era of consumer choices and empowerment. Today's customers have multiple choices, and various channels to purchase products/services and different platforms to talk about their experience while using the product/service. Hence, understanding customer needs lays as a base. The businesses cannot ignore the consumer conversations if they want to retain their customers and acquire news ones. Therefore measuring customer satisfaction, customer support and appreciation becomes important if they want to thrive in this competitive business world. Building trust with customers also plays a major role.
Irrespective of the size of the business, entrepreneurs should seek new ways to improve customer satisfaction and service because experts opine that
A totally satisfied customer will contribute 2.6 folds more profit than a somewhat satisfied consumer
A totally satisfied user will contribute 17 fold more profit than an unsatisfied customer.
A totally unsatisfied customer decreases profit by 18 fold than a totally satisfied customer.
With retail store proliferating, customer satisfaction should be high on the priority list of any business. The reasons are as follows.
A satisfied customer become a lifetime loyal customer- A small business owner should be aware of the fact that his competitors are only a stone's throw away or rather a click away waiting to grab his customers. If satisfying customers is difficult task then getting lifetime loyalty is a much more grueling task and much harder to get. However, the route to lifetime customer loyalty is starts with satisfaction. When a customer has good experiences repeatedly with a particular brand each time he uses it leads to loyalty. This shows the customer experience management which is a slow process.
There are many factors that contribute to the customers moving away from the loyalty of a specific brand. They include
Better value for the product/service
Less effort in procuring/using it
personalized guidance
An experienced representative to guide them at every stage of the product usage
Knowledgeable customer reps to answer their important queries
Many businesses irrespective of their sizes should be aware of the fact that the one of the ways to retain your customers is through personalized and customized services. This would ultimately lead to lifetime loyalty.
New Generation, New Expectations- Millennials or Gen Y customers are convenience customers and they have a very different expectations compared to the previous generation. They are tech savvy and browse the Internet to seek advice, read the experience of other customers, compare the quality, and price before they purchase a product. As per the study of American Express Global Customer Service, 53% of the folk talked about the bad experience they had with a particular brand on the social channels, while only 42% of the folk discuss their good experience with their peers verbally or through social channels
High profitable small businesses have to scour the various social channels to see what is being said about their products/services. Experts opine 33% of the folks prefer to use social platform to clarify the doubts and post queries. Businesses should exploit this opportunity to respond to the queries posted by their customers and prospects. Also keep them engaged by posting informative content about the company and its various products/services. If the Generation Y consumers are satisfied with customer service then they are likely to be a lifetime loyalty customers.
80/20 Rule Applies- As in time management, this rule is applicable to the business revenue too. 80% of the financial gain comes from just 20% of the loyal consumers who purchase the products over and over again. Therefore, a business should have customer-centric strategies plan to increase repeated sales. Repeated sales happen when a business focuses on finding the right customers, nurture and engage them. Business should find ways to improve the customer sentiments.
This is where a good CRM system comes in handy. For a business to nurture its brand lovers, they need to offer personalized service as per their tastes and preferences. All this is possible with a simple mouse click if a CRM software is integrated with the currently existing system. A customer's profile can be retrieved from the database if he has any query regarding the shipping details or want better packaging. That is why every small business need a digital assistant called CRM.
You will be the BAE (Before Anyone Else) of satisfied users- One of the reasons for many small businesses to become a success is because they put their customers Before Anyone and Anything Else (BAE). And this is reciprocated by the totally satisfied customers. They are the ones who are the lifetime loyal customers of a business.
To curb the customer from deferring from a business, one needs to have a customer retention strategy in place. Remember today's customers are not concerned about the pricing of the product. However, they are particular about the quality, customer relationship and post sales services. Some of the strategies that a small business can incorporate as a part of its sales and marketing are as follows
Customized and personalized customer service, customer value, customer profiling- knowing your customers go a long way in retaining them.
Inviting them to subscribe to your blogs, webinars and e-newsletter.
Offering your potential prospects and unhappy customers discount coupons and gift cards.
Training the sales and marketing team on how to keep the customers happy to retain them has become imperative. The marketing team should come up with collaterals and engaging marketing content that can be shared with the customers. Also locate appropriate influencers whose blogs and write-ups can influence the business' targeted audience.
In brief, customer satisfaction plays a vital role in determining the success of any business. You can also check the Customer service satisfaction survey to grow your business and boost small business. Apptivo's CRM is designed from the ground up for superior customer experience. It contains a host of application catering a gamut of requirements and are highly versatile. The tools of the CRM adapt to any scenario and undeniably cutting edge. Apptivo has invested considerable resources to hone the CRM product. Without doubt the Apptivo's suite of CRM apps is among the best in the market. Recently it was ranked among top ten existing CRM's by PCMag.com Editor's Choice and it was given five starts for customer service by Capterra.com.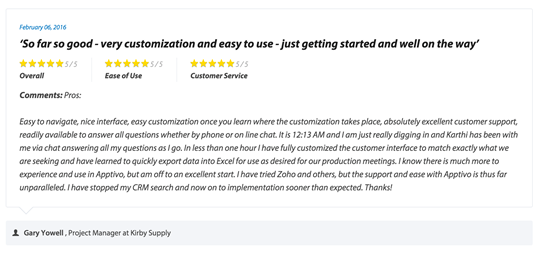 Related posts: