Business Summary
ServiceMaster by Best (SMB) is a regional cleaning and restoration business. SMB was incorporated in the State of Kansas in July 2003 as Best Corporation. SMB serves clients generally located in Sedgwick and Butler Counties of Kansas. They also serve clients in other parts of the state that are based in Wichita and surrounding areas upon special request. They are in the business of finding solutions for our clients. There are two basic production divisions within the company, commercial cleaning & restoration and residential cleaning & restoration.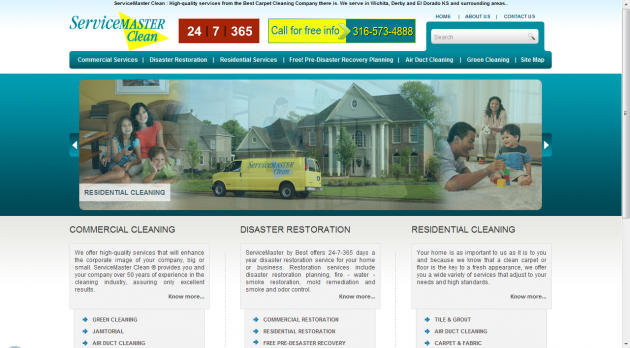 Building Client Trust
Every call that ServiceMaster by Best receives, they asks their clients how they have heard of their services, most respond that they know of them, but others will say they have heard of their reputation. With such a great reputation, it's easy to build trust amongst potential customers. These customers must also give their trust into the company because they leave their personal belongings with ServiceMaster by Best everyday.
Being apart of such a large industry, ServiceMaster by Best has received various industry associations such as Clean Trust, Green Seal, Better Business Bureau and many others. Clean Trust, formerly known as Institute of Inspection Cleaning and Restoration Certification, is put in place to set and promote high standards and ethics to cleaning and restoration. Green Seal has a standard of businesses that help promote a sustainable economy. Even though these will not generate leads or unique visitors, they do help with giving potential clients confidence in their company. They are accredited by Better Business Bureau with an A+ rating.

They try to give their customers the best customer service possible. The employees show up in decaled vehicles that are clean and organized. Employees are always well groomed and treat their customers well. Phone lines are answered 24 hours a day, 365 days a year.

It's important for any business to follow-up with all their clients so they turn into returning clients. No matter if they are large or small, it's important to give attention to all businesses.
Currently, at the bottom of their homepage, they have several logos of accreditation.

Visit ServiceMaster by Best on Facebook and LinkedIn.
No related posts.